IMPORTANT DATES & INFORMATION
LĀ HOPE O KE KULA:
FRIDAY, MAY 27TH
Puke Haliʻa (Yearbook)
If you are interested in purchasing our 2021-2022 Yearbook,
"Kau Ka Haliʻa Aloha,"
you may purchase a book online at the
Puke Haliʻa Yearbook Store.
Cost per yearbook is $18.00
Yearbooks purchased online will mailed directly to your home address. The online store is open now until the end of June 2022. MAHALO!!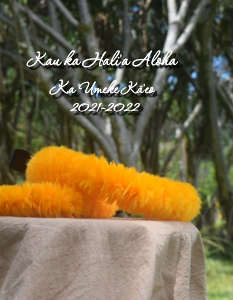 Morning Drop-Off & Wellness Check
Drop-off and pickup will be done via drive-thru similar to last year on all kahua kula. At this time, we are no longer requiring ʻohana to do the morning wellness check. We hope that each ʻohana will do their due diligence in making sure that their children are in good health before coming to school. This is crucial to the health and safety of our whole kula and community.
Our staff will start accepting students on campus at 7:15a. Please be sure to stay in your vehicle until a staff has come to the car to accept your keiki. Mahalo nui for your continued patience & understanding.
Q2 Return to F2F Learning for all Haumāna and State Distance Learning Option for Hawaiian Immersion Schools
Aloha
We hope that you are doing well and had a restful week off with your ʻohana. We have 2 announcements for you all.
We are ready for all keiki to return to kula tomorrow for 100% F2F learning on all campuses w/ no room and zoom. An announcement on Bloomz and onecall went out last week and I would like to mahalo all of you that reached out. Mandatory wellness check-in must be done for every keiki at each site. The earliest dropoff is 7:15 and school ends at 2:10 M,T,R,F, and 12pm on Wed.
We have just been made aware that Ka ʻUmeke has the opportunity to be part of the State Distance learning program for Hawaiian Immersion schools. If interested a
survey
will be on Bloomz and our website to be completed ASAP. There are requirements for qualifying for this program with students making appropriate progress, good attendance from quarter 1, complete ʻohana participation, and must remain in the program for the entirety of the school year. If interested we will notify you of orientation info tomorrow and individual meetings as necessary. If your keiki will not be coming to school f2f tomorrow with hopes that they will be in this DL program email kealoha@kaumeke.net. More info will be forthcoming. Mahalo nui a a hui hou!
Naʻu,
Kumu Nohea
Aloha Kākou!
 Please take advantage of this AMAZING opportunity given to you all from Kamehameha Schools offering free computers for ALL haumāna ʻōlelo Hawaiʻi. 
 Hoʻolako Home Program:
"ʻŌpio thrive when theyʻre connected to their kaiāulu in person and in virtual spaces too. Having the right tools helps them to make these connections and pursue their goals, including fulfilling kuleana as keiki o ka ʻāina to strengthen Hawaiʻi and its people–goals that kula kaiapuni inspire in ʻōpio. Thaʻts why weʻre offering haumāna at kula kaiapuni a free refurbished computer to keep as their very own."
Please view the pdf below to read more about it or click on the link provided here to sign up for your keikiʻs very own computer:
https://kamehamehaschools.az1.qualtrics.com/jfe/preview/SV_1YWsfsmG9CFLGEm?Q_CHL=preview&Q_SurveyVersionID=current
Reminder this is not per ʻohana but PER KEIKI, so when signing up make sure to do a survey for EACH of your keiki that are enrolled at Ka ʻUmeke Kāʻeo PCS.
Mahalo nui again to Hawaiian Hope and Kaulu by KS Digital for this wonderful opportunity for our keiki!
Once you receive your device from KS we request that you return your Ka ʻUmeke device so that we can provide devices in school for haumāna. We will schedule drop-off dates and times so that we can organize the receipt of devices. Mahalo nui and donʻt wait, fill the form out ASAP so that you can get your keiki their very own kamepiula for kula!
Please reach out to the keʻena if you have any questions or kokua@kaumeke.net. 
Naʻu,
na Kumu Nohea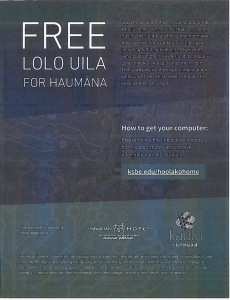 PLEASE USE THE LINK ABOVE OR CLICK THE IMAGE BELOW TO TAKE YOU TO THIS PDF TO ACCESS THE FIRST DAY PACKET.

First Day Face to Face: August 30, 2021
Aloha kākou!
We are so excited to see our keiki on all kahua kula tomorrow and want to remind you of a few things before returning.
Dropoff and pickup will be done via drive-thru similar to last year on all kahua kula. To expedite the process we are asking all ʻohana to do the MANDATORY Wellness Check-in by 7:00 am so that we can check completion prior to arrival. Reminder no keiki will be allowed on campus if the wellness check is not done or if you answer yes to any of the questions. This is crucial to maintain the health and safety of our whole kula and community so please help us keep you and your keiki and ʻohana healthy and safe. There will be a temperature check at drop-off and ensure that everyone in. your vehicle is masked when we come to your car. You may find the link for the wellness check here: or scan the qr code below and save it to your phone.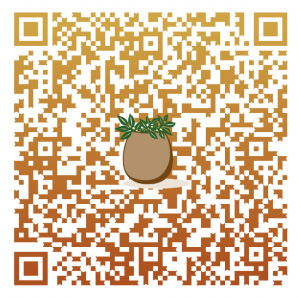 FIRST-DAY PACKETS!!!! Reminder if you have not done so already, please complete your first-day packets. Keiki will not be on campus without this completed as well. We will be double-checking and having you park and complete before leaving your keiki on campus if not completed. This is important because in the event of an emergency we need the most updated information for emergency contacts and other information that is part of our first-day packet forms. You can find the link here: FIRST DAY PACKET  Please complete it before dropping your keiki tomorrow.
 Mahalo for continuing to communicate with kumu and kula about any and all concerns or questions you may have pertaining to your ʻohana and proper protocol for ensuring the safety of our community. We will continue to communicate with you all with any updates or further information as necessary but we appreciate how serious you are all taking what is happening in our community. E mālama kākou i kekahi i kekahi! Mahalo and as always please reach out if you have any questions or concerns!
Ke aloha nui iā ʻoukou pakahi a pau!
Naʻu,
na Kumu Nohea
Aloha,
 Ke one holu o Waiolama, like the ever-shifting sands of Waiolama we would like to mahalo all of you for your ahonui and aloha as we shift and pivot our program for everyoneʻs health and safety. Based on the Return to Learn Survey results, kumu and limahana with approval from the Governing Board, are working to allow ʻohana to select the learning design that best meets their needs at this time.  Please read the attached letter (here) for that decision and what you need to do in the meantime so that we can prepare for your keikiʻs return to campus. In general this we have decided to:
Provide two choices for ʻohana for Hapahā 1 (Q1):
1.).  100% DISTANCE or
2.)  100% Face to Face for Papa 1-12 
****Kai Kohola and Papa Mālaaʻo to be ONLY 100% Face to Face with no option for Distance Learning***
Please read the following letter for more details about this decision and what all ʻohana MUST do to help us to prepare. After reading and agreeing to meet the expectations for ʻohana and keiki for ONLINE and FACE to FACE learning your ʻohana must make a choice for the quarter for your ʻohana via this link:  www.shorturl.at/qwzF2 (or the hyperlink in the title above) by Sunday, August 22nd.
If you have any questions please feel free to send an email to kokua@kaumeke.net and we will respond as quickly as possible. A one call will be coming out shortly and we will also be doing a video with additional information to be posted sometime this weekend.
Me ke aloha nui,
Nohea Nahale-a
Poʻokumu
SCHOOL START PUSHED TO 8/11/2021!
Please click on this link or the picture below to get full details of our return to learn changes. Mahalo nui for your patience and understanding!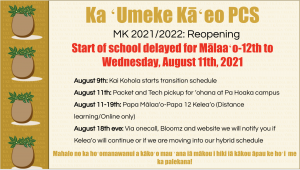 ________________________________________________
FIRST DAY OF SCHOOL- STUDENTS RETURN

Youtube Video Link here to watch reopening video or click on the image above to download and view the presentation.
School Supply List SY2021-2022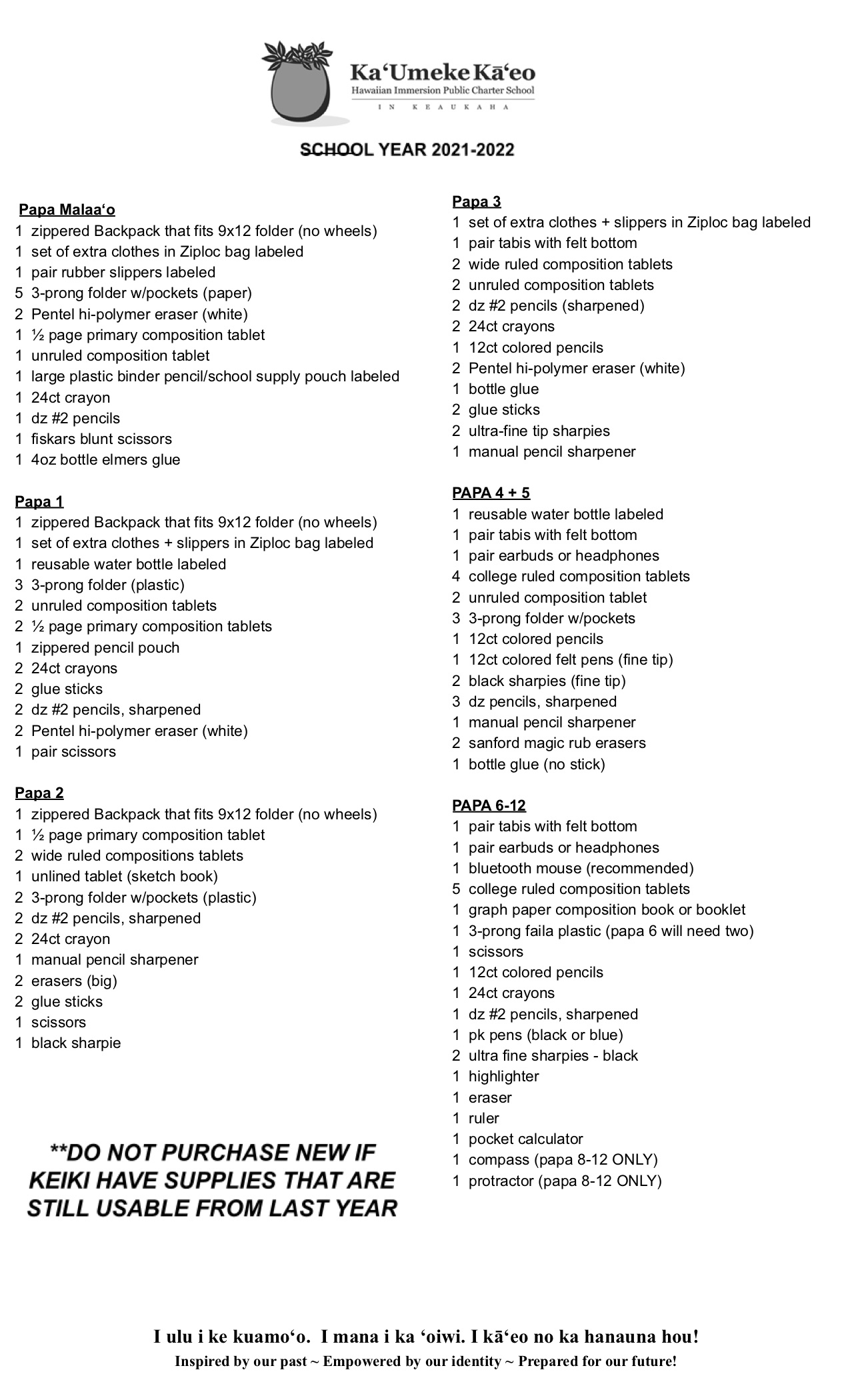 Help is Here – Checks for Kids Flyer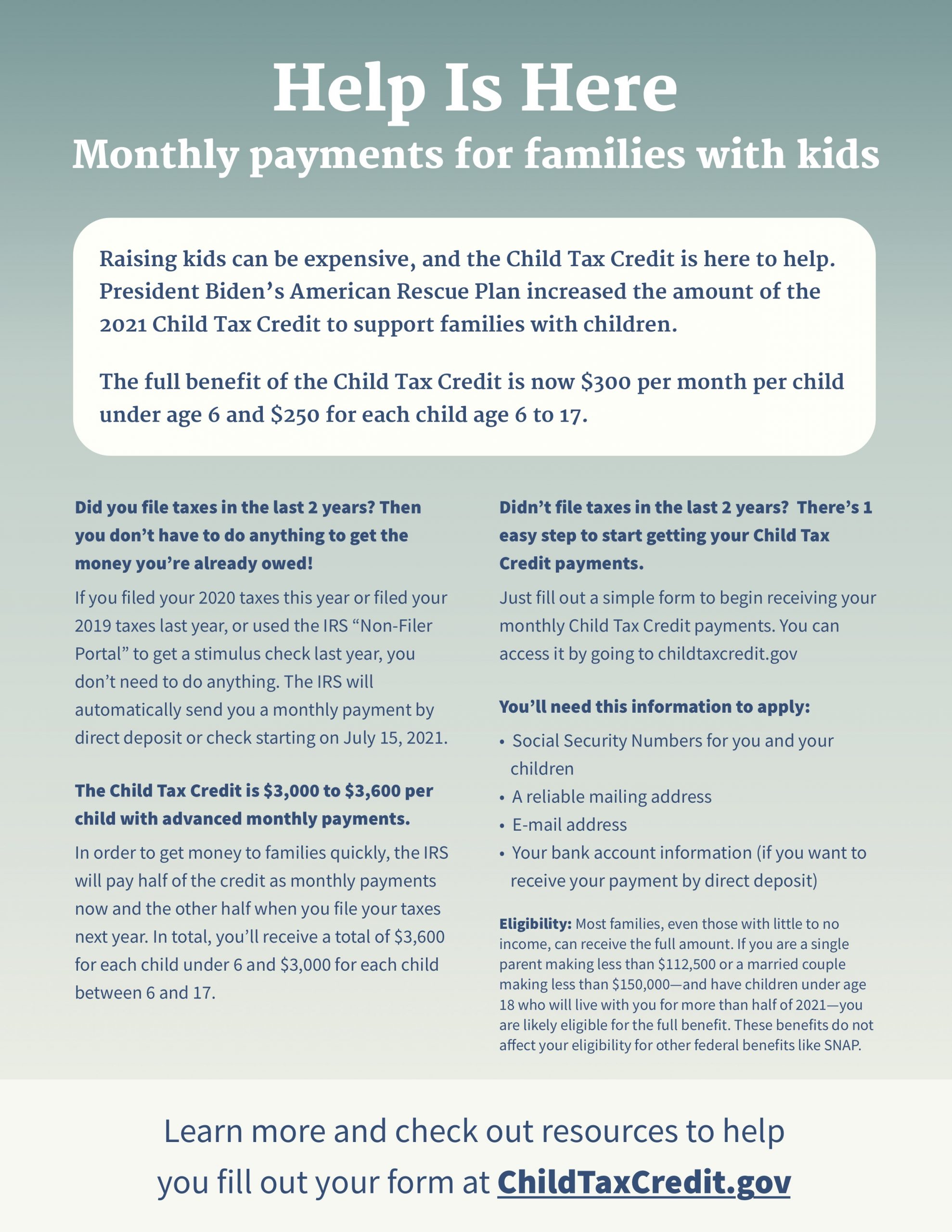 If you have any questions, you can email us at info@kaumeke.net
You may also leave a message on our campus phones, messages will be checked daily and we will contact you as soon as possible.
Kai Koholā (PreK): (808) 209-8116
Hale Lamalama (Papa M-Papa 3): (808) 933-3482
Pā Hoaka (Papa 4-11): (808) 961-0470
______________________________________
Please see the map below of our morning drop-off at Pā Hoaka. If you have any questions, please call the keʻena at 961-0470. Mahalo for your patience!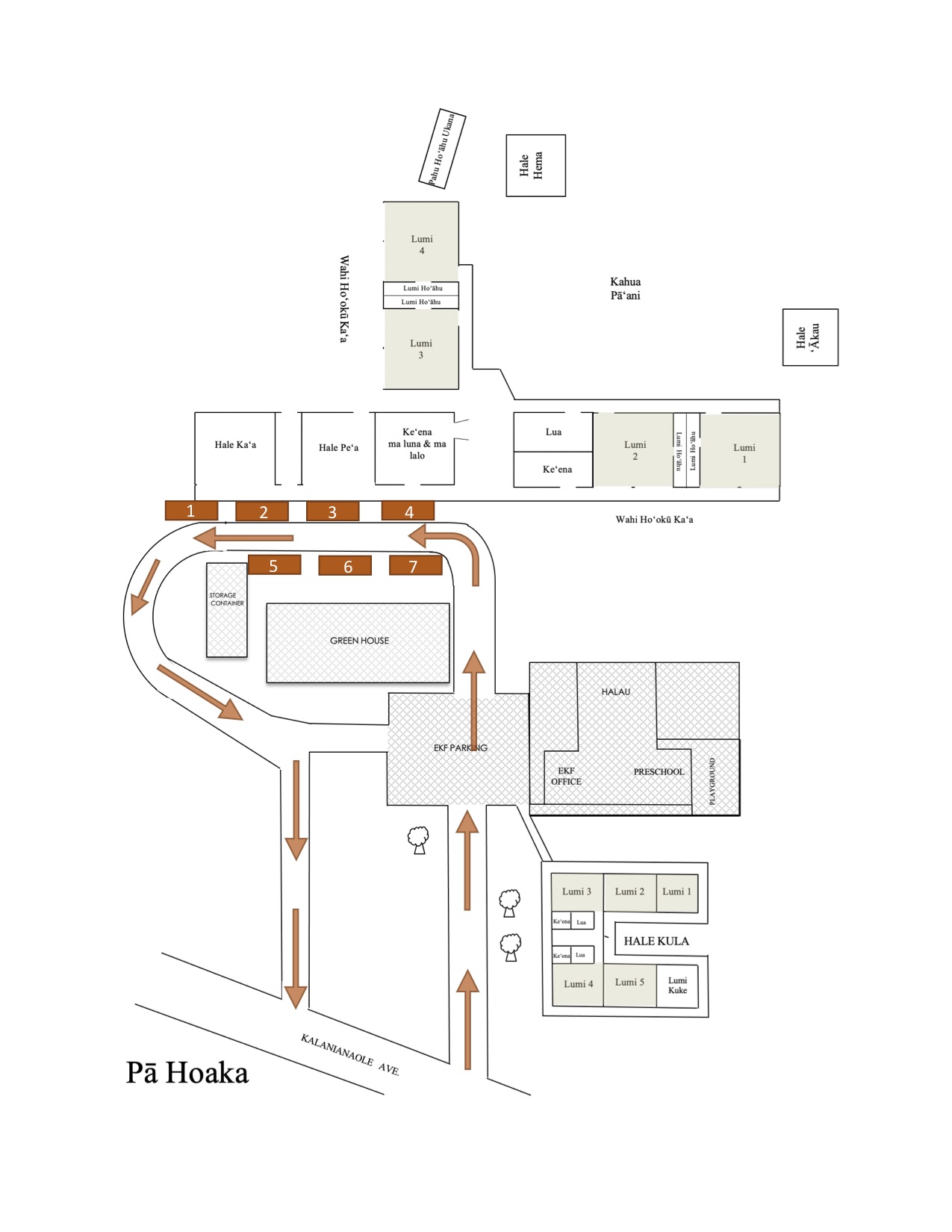 ______________________________________
Please click on the link above to watch a video on Ka ʻUmekeʻs return to learn model that we will be following for the remainder of the school year.  It will also be shared via BLOOMZ via your keikiʻs kumu.  If you have any questions after watching please post them in the google doc HERE and we will answer them ASAP.
______________________________________
______________________________________
Please go to our ʻOhana Engagement page for more information about different family & community events happening at Ka ʻUmeke.
___________________________________
Check out our weekly newsletter, Ka Lama

_______________________________________
2021-2022 Ka Umeke Official School Calendar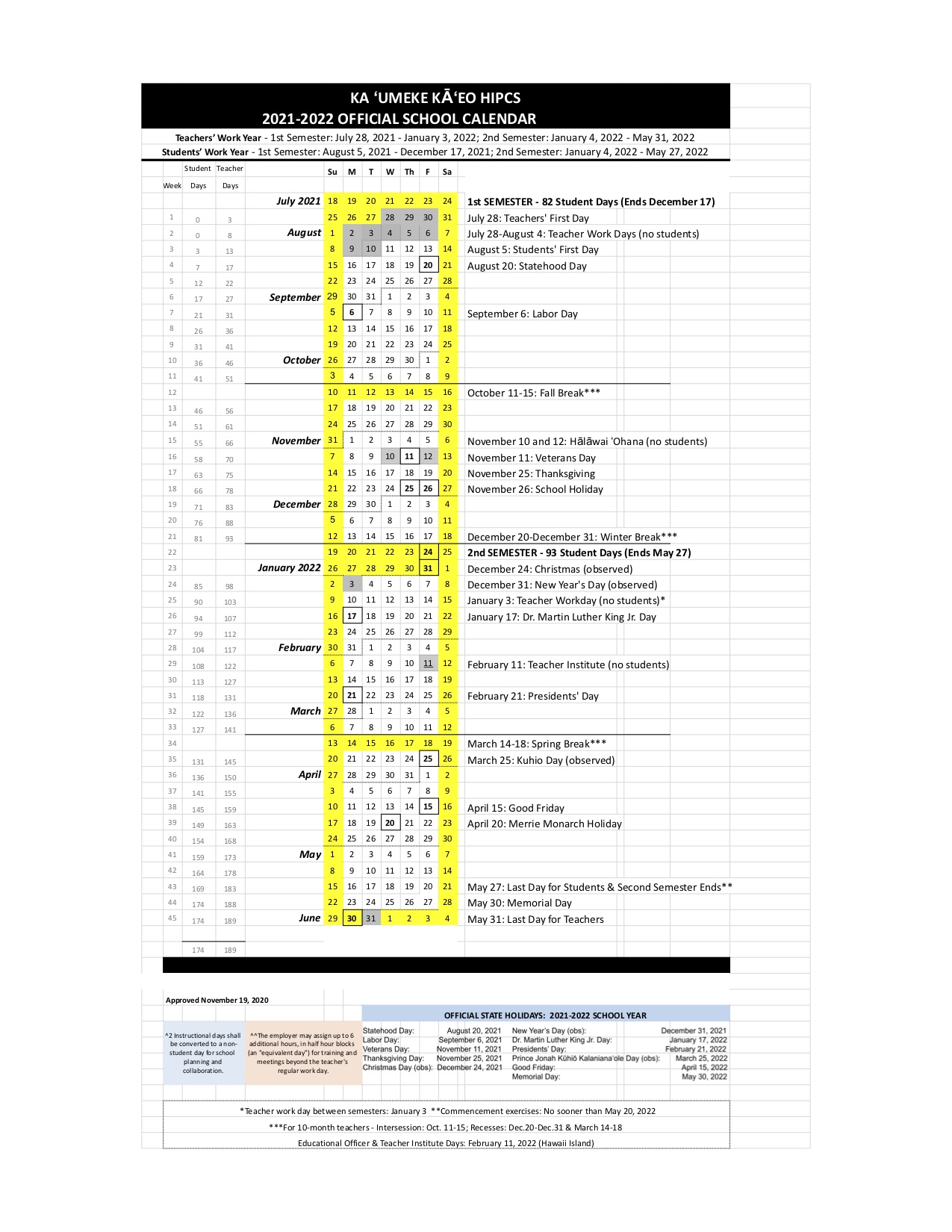 *Please click on hyperlink above for more information.
The Family Educational Rights and Privacy Act (FERPA) is a federal law that gives parents certain protections with regard to their children's education records, such as report cards, transcripts, disciplinary records, contact and family information, and class schedules. As a parent, you have the right to review your child's education records and to request changes under limited circumstances.
Annual Notice of Non-Discrimination Requirement_June2018
SCHOOL UNIFORMS
School uniforms may be purchased at Creative Arts Hawaiʻi located at
500 Kalanianaʻole Ave.
HOURS OF OPERATION: 8:00a-4:00p
$7.50 (keiki); $8.00 (makua)