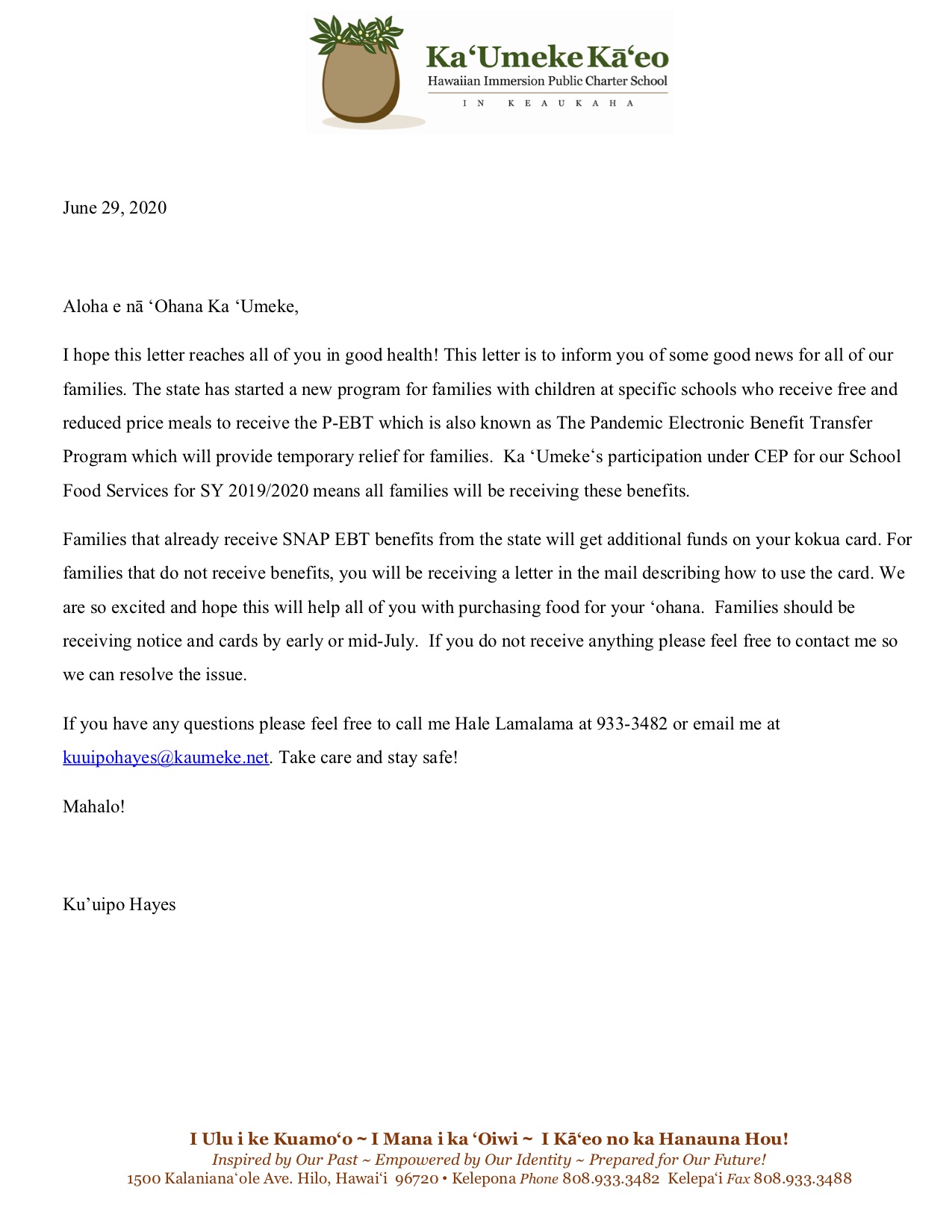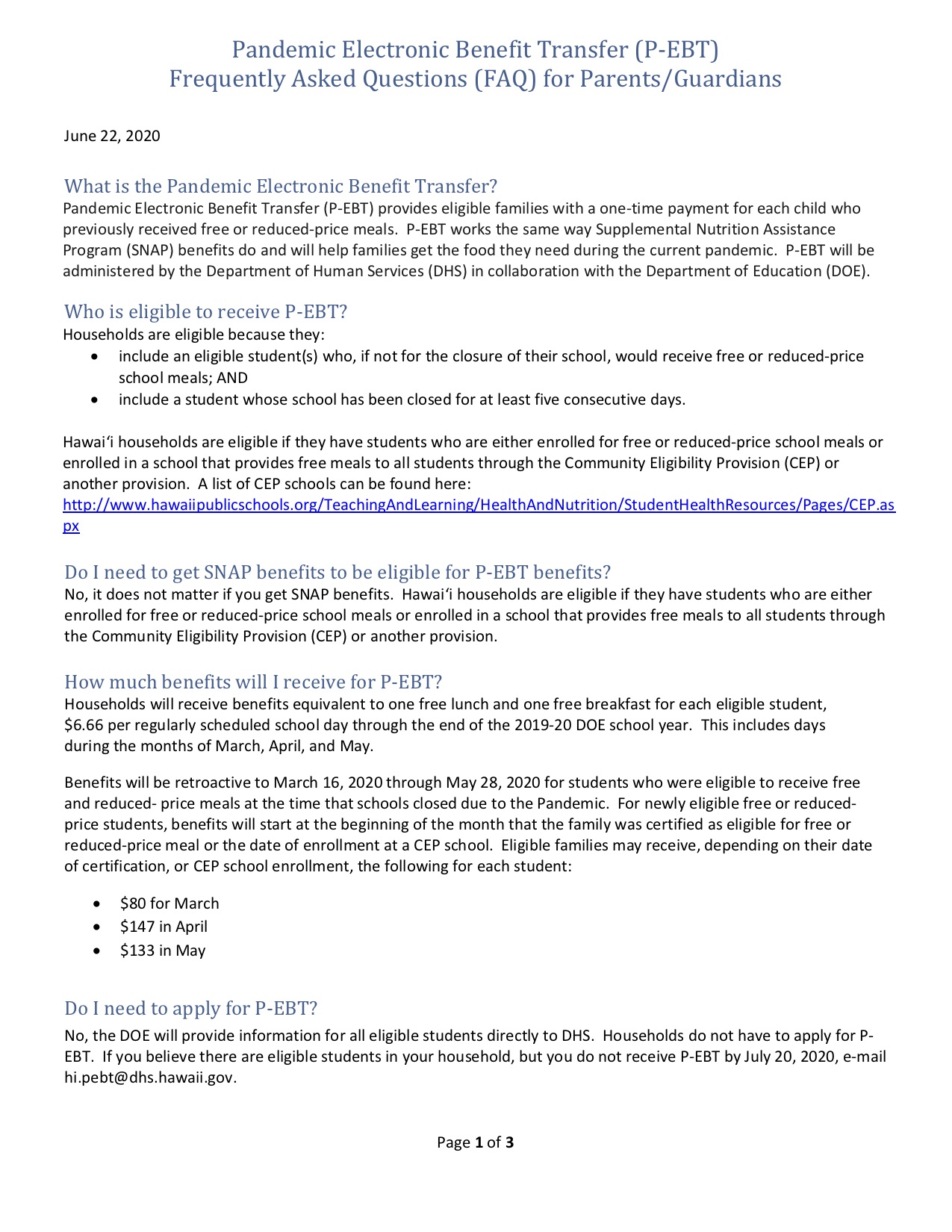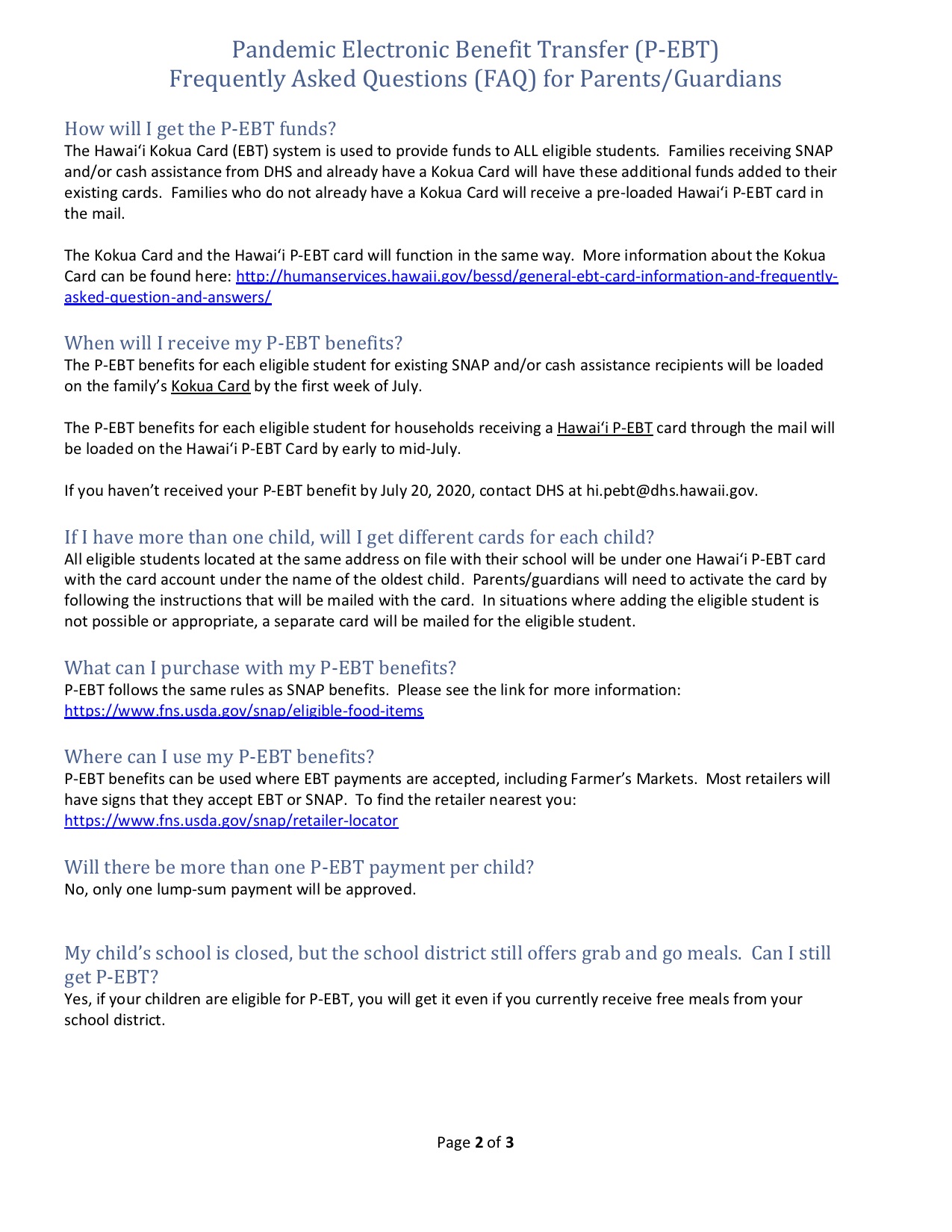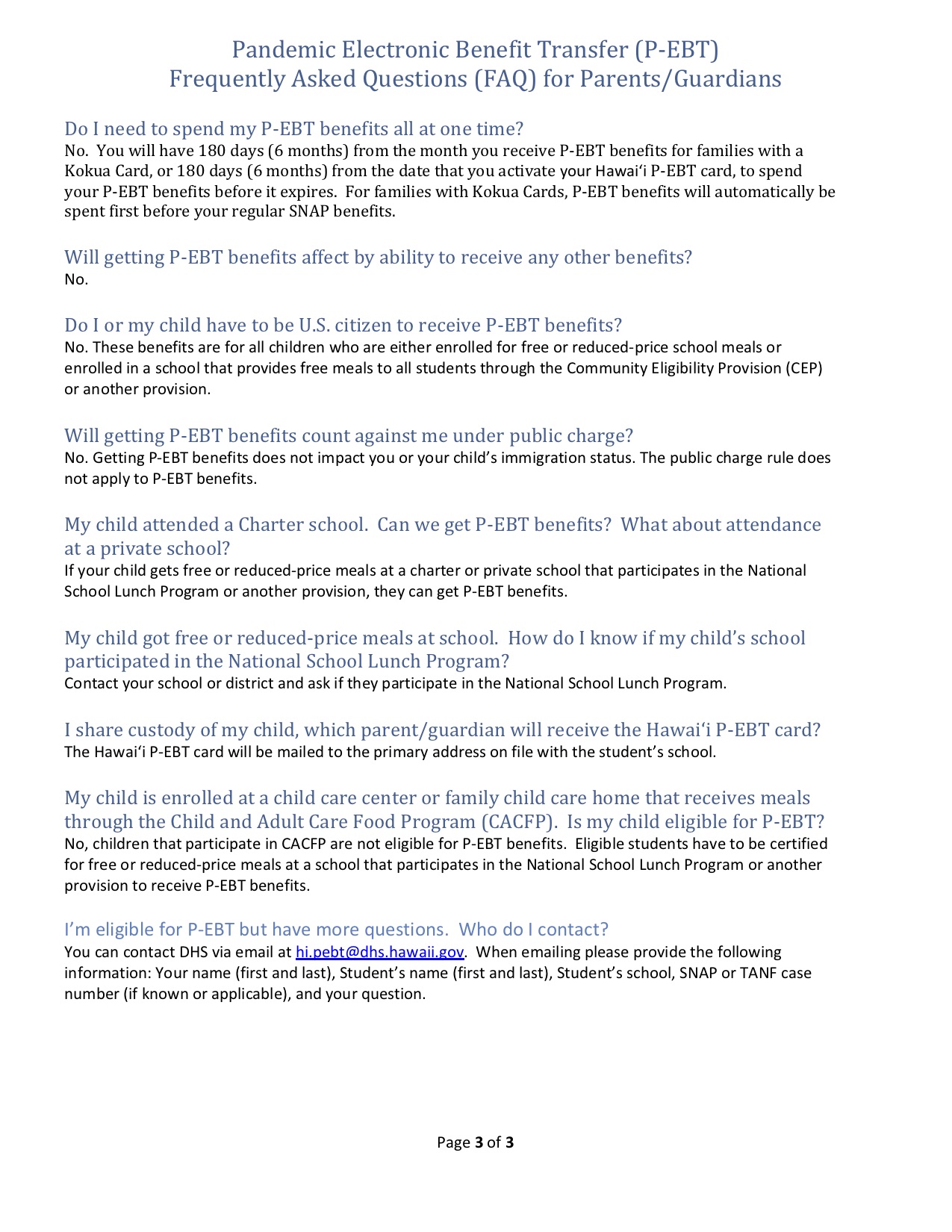 IMPORTANT DATES & INFORMATION
E PANI ʻIA ANA NĀ KAHUA KULA A PAU MAI KA LĀ 19 O MALAKI A I KA LĀ 3 O ʻAPELILA 2020 E KA LUNA HOʻONAʻAUAO MOKUʻĀINA. INĀ PONO KE KŌKUA, E KELEPONA A WAIHO MANAʻO MA (808) 961-0470 A I ʻOLE E KAU MA KĒIA KAHUAPAʻA NEI NO KA ʻIKEPILI KŪMANWA. 
ALL PUBLIC SCHOOL FACILITIES WILL BE CLOSED FROM MARCH 19- APRIL 3, 2020 UNDER DIRECTIVE FROM THE STATE SUPERINTENDENT.  PLEASE CALL THE KEʻENA AT (808) 961-0470 FOR ASSISTANCE OR CONTINUE TO VISIT THIS WEBSITE WWW.KAUMEKE.ORG FOR THE MOST UP TO DATE INFORMATION.
If you have any questions, you can email us at info@kaumeke.net
You may also leave a message on our campus phones, messages will be checked daily and we will contact you as soon as possible.
Kai Koholā: 209-8116
Hale Lamalama (Papa M-Papa 3): 933-3482
Pā Hoaka (Papa 4-10): 961-0470
School hours:
8:00a – 2:10p (Monday, Tuesday, Thursday, Friday)
8:00a – 1:00p (Wednesday)
Please go to our ʻOhana Engagement page for more information about different family & community events happening at Ka ʻUmeke.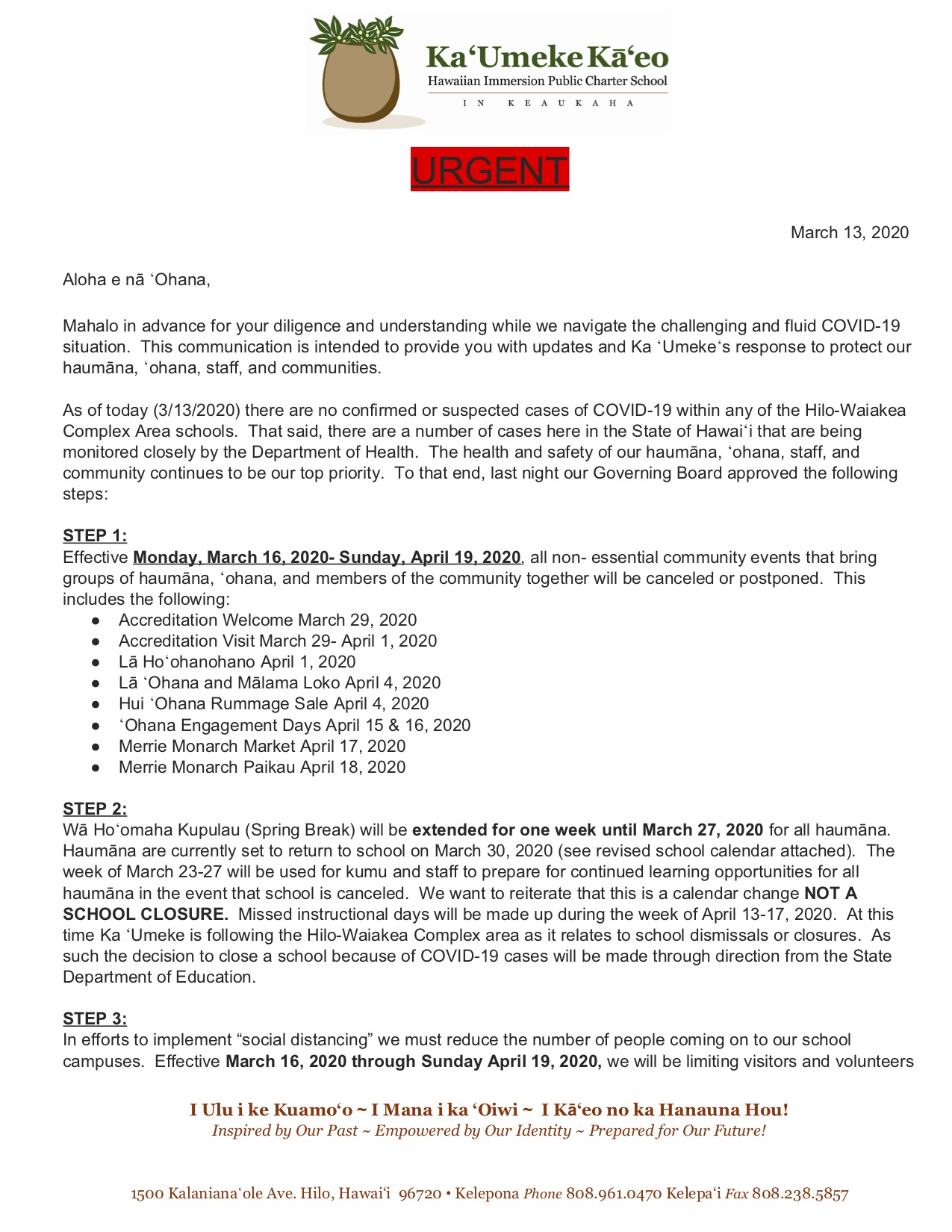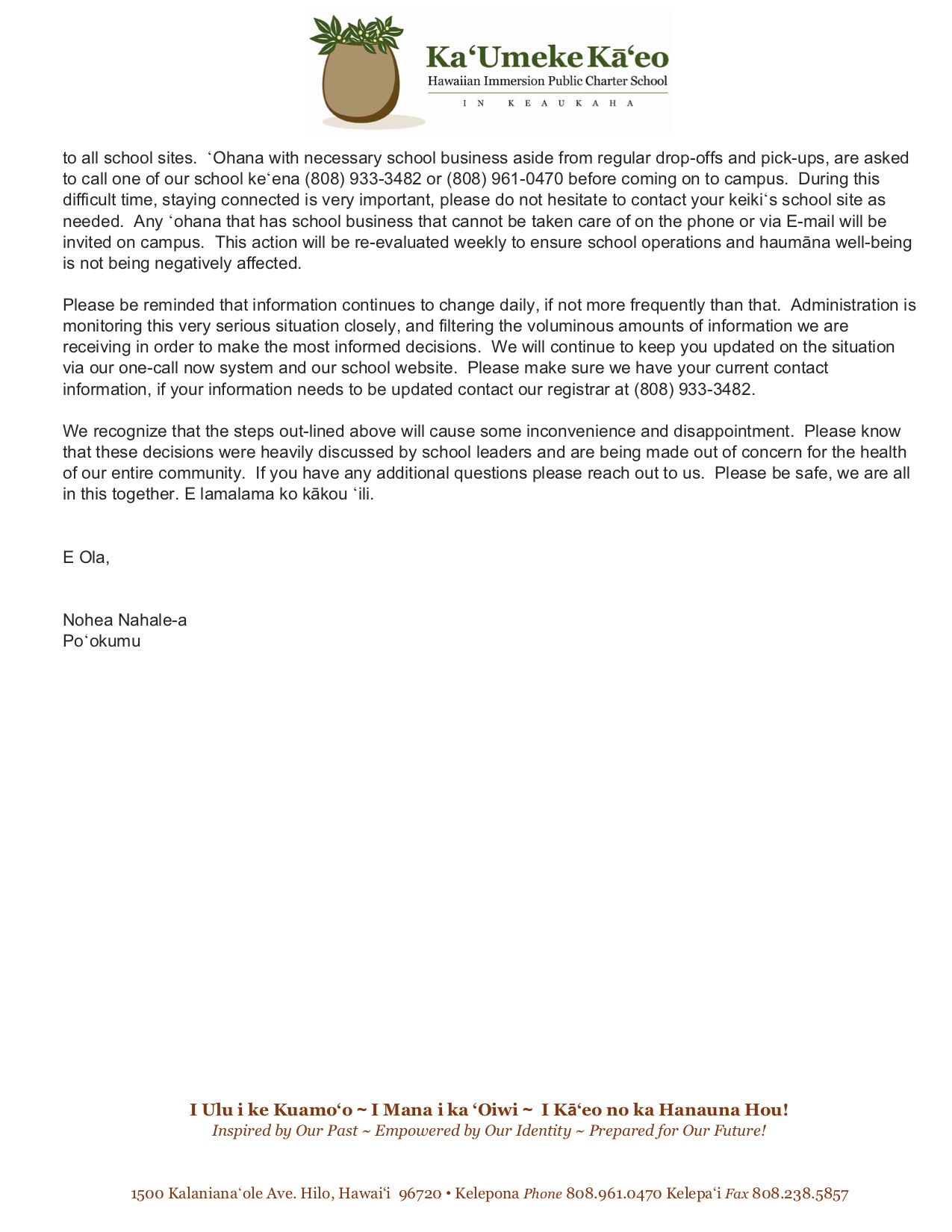 CORONA VIRUS INFORMATION FOR OUR ʻOHANA
Dear School and University Representatives:
The CDC has published Interim Guidance for Administrators of US Childcare Programs and K-12 Schools to Plan, Prepare, and Respond to Coronavirus Disease 2019 (COVID-19) at the following website:
https://www.cdc.gov/coronavirus/2019-ncov/specific-groups/guidance-for-schools.html
There are currently no cases of COVID-19 in Hawaii.  If cases are identified in the community, HDOH will work closely with schools and universities to determine the best course of action to prevent the spread of the virus.  Please note that this is a rapidly evolving situation and this guidance may be updated as additional information about COVID-19 becomes available.
Sincerely,
Marcia M. Nagao, Immunization Branch
Please check out these websites for more information about the Corona Virus
Department of Health Memo Corona Virus
Website: DOHʻs Novel Corona Virus webpage https://health.hawaii.gov/docd/advisories/novel-coronavirus-2019/
Website link: CDCʻs Novel Corona Virus webpage https://www.cdc.gov/coronavirus/2019-ncov/index.html
Department of Health- Guidelines on the Corona Virus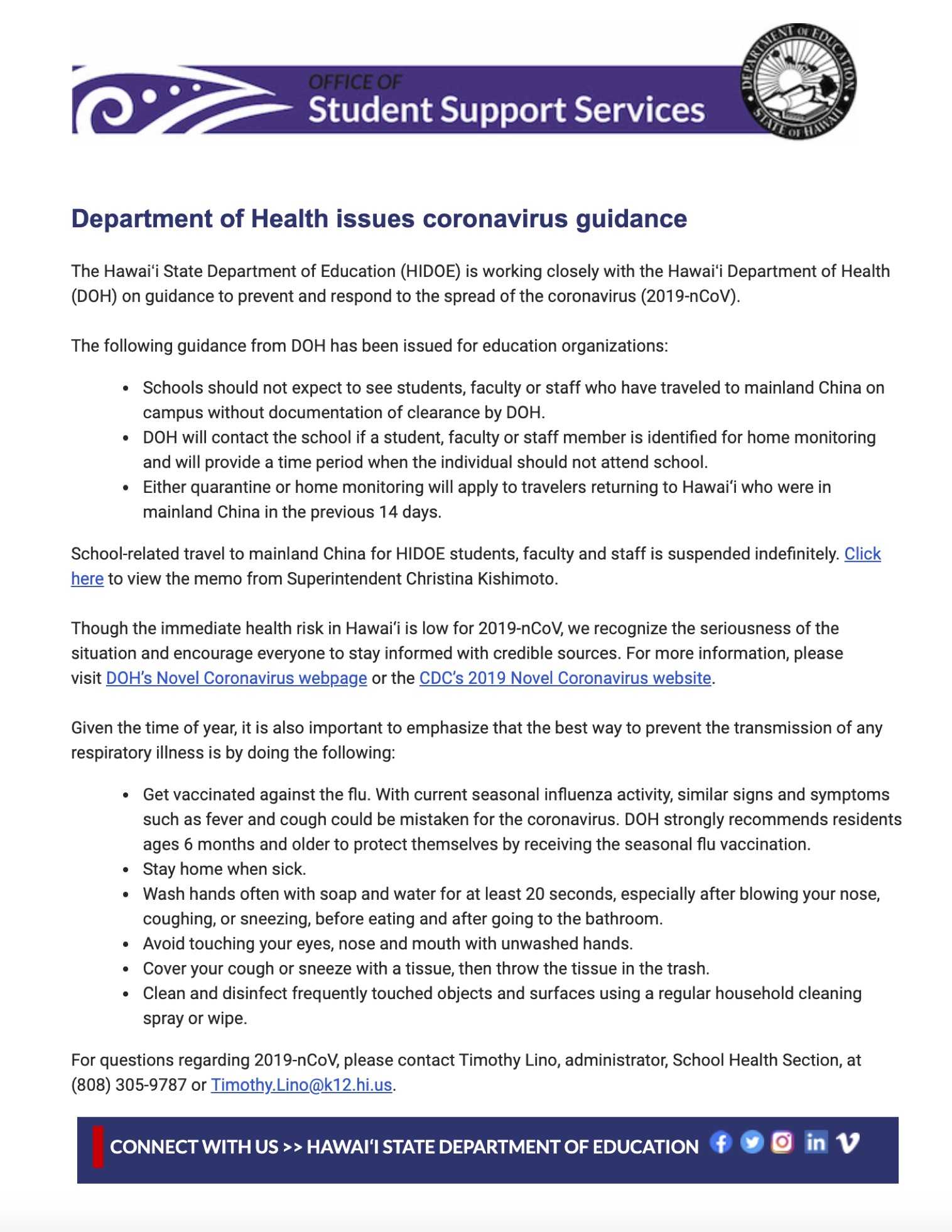 KA ʻUMEKE DEMOGRAPHIC SURVEY
Please click on link: here
*Please click on hyperlink above for more information.
The Family Educational Rights and Privacy Act (FERPA) is a federal law that gives parents certain protections with regard to their children's education records, such as report cards, transcripts, disciplinary records, contact and family information, and class schedules. As a parent, you have the right to review your child's education records and to request changes under limited circumstances.
Annual Notice of Non-Discrimination Requirement_June2018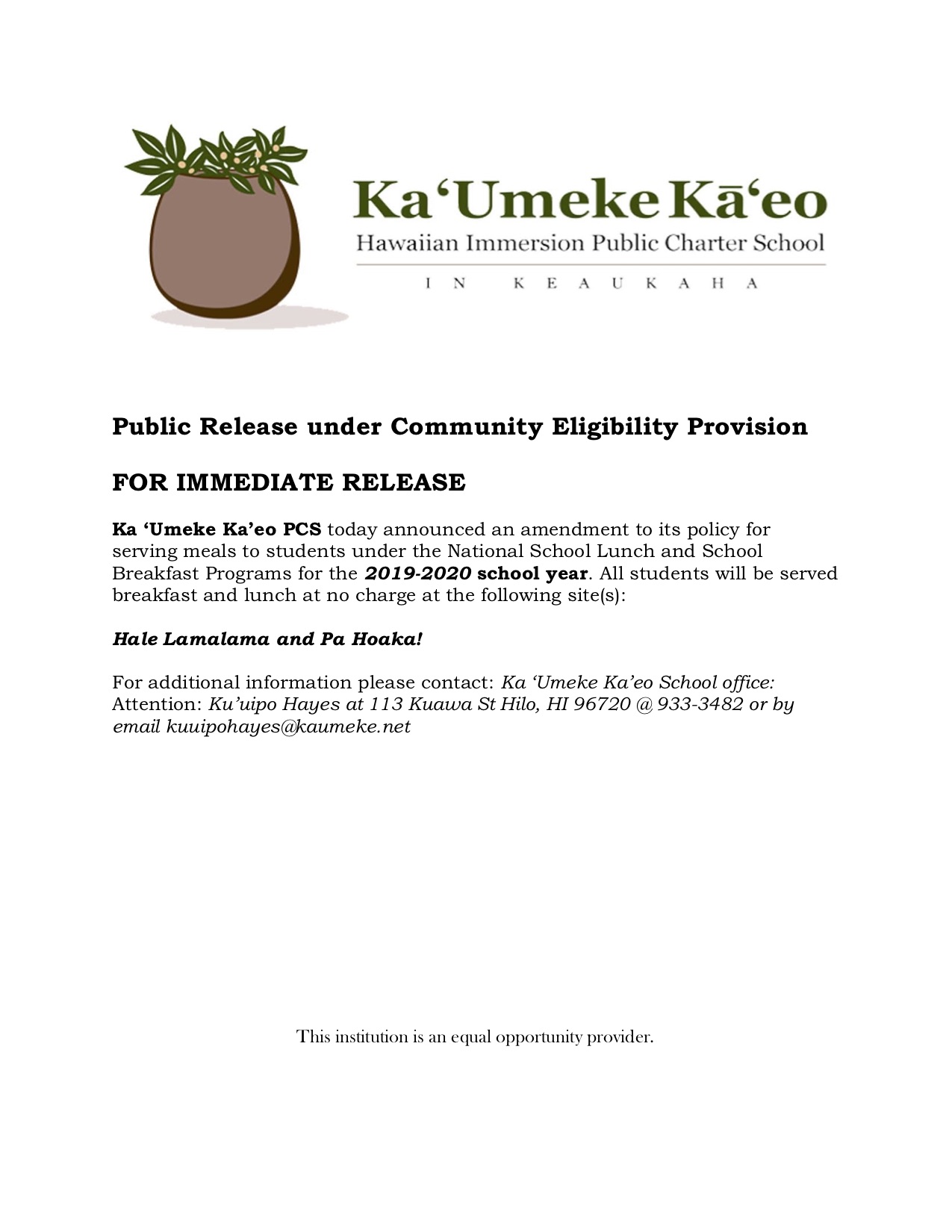 SCHOOL UNIFORMS
School uniforms may be purchased at Creative Arts Hawaiʻi located at
500 Kalanianaʻole Ave.
HOURS OF OPERATION: 8:00a-4:00p
$7.50 (keiki); $8.00 (makua)