IMPORTANT DATES & INFORMATION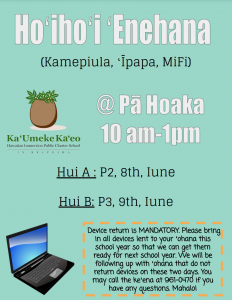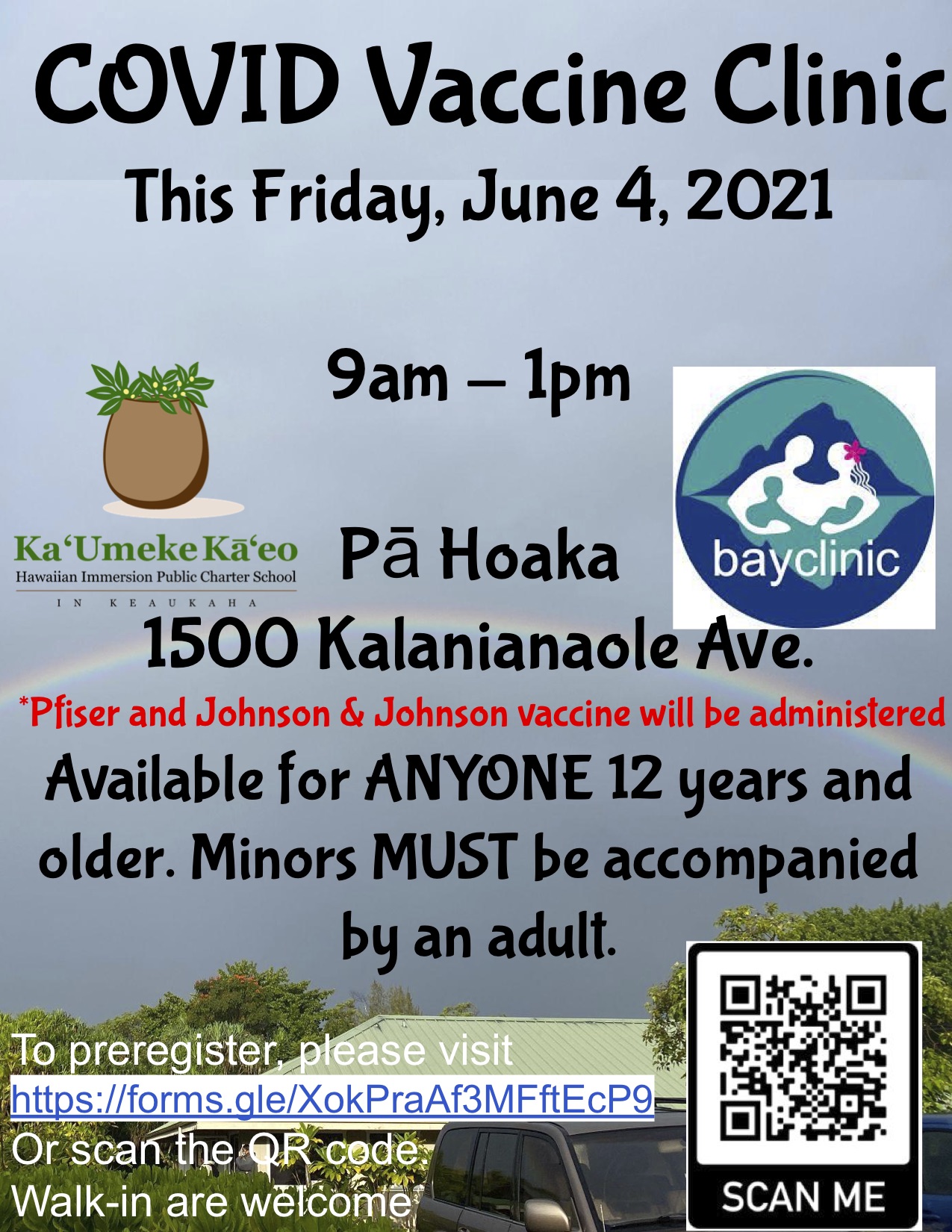 If you have any questions, you can email us at info@kaumeke.net
You may also leave a message on our campus phones, messages will be checked daily and we will contact you as soon as possible.
Kai Koholā (PreK): (808) 209-8116
Hale Lamalama (Papa M-Papa 3): (808) 933-3482
Pā Hoaka (Papa 4-11): (808) 961-0470
______________________________________
KA ʻUMEKE KĀʻEO-HŌʻIKE HULA 


P2- 6/1/2021 @ 11 PM
E nanea pū me mākou i ka hōʻike! E kaomi i kēia loulou Zoom a i ʻole…
Meeting ID: 898 7407 7678
PW: 9mxRFv
PĀ HOAKA DROP-OFF UPDATE


as of 2/25/21
As we know, the front drop-off area is very muddy. We will be moving the wellness check and drop-off area to the back. Please see the map below and a video explaining the change here.  If you have any questions, please call the keʻena at 961-0470. Mahalo for your patience!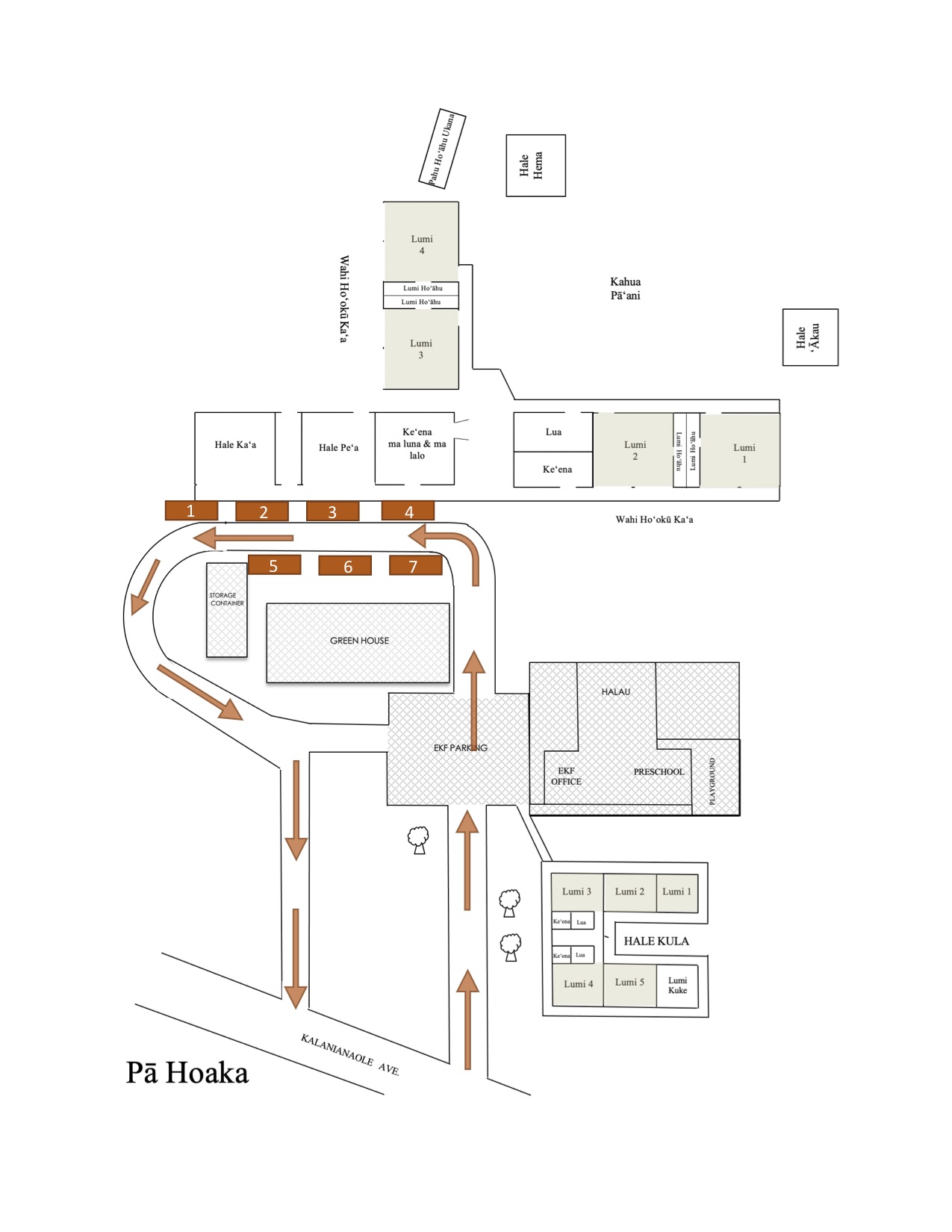 ______________________________________
Return to Learn Hybrid/Blended Learning Information 2/21/2021
Aloha e nnā ʻohana Ka ʻUmeke Kāʻeo! Please watch and look over the slide presentation regarding your keikiʻs return to F2F learning starting this week of 2/22/2021. This is important information to know and be aware of prior to your keiki coming onto campus. We are excited to see everyone back and as always feel free to reach out to the keʻena or your keikiʻs kumu if you have any questions or concerns. Mahalo nui!
Click on this video hyperlink to view the Hybrid/Blended Learning Important Information.
Click on this link to view the slideshow information to review what was shared in the video.
______________________________________
Return to Learn Hybrid/Blended Learning Information
Aloha e nā ʻohana Ka ʻUmeke Kāʻeo! Please watch and look over the PPT information being shared with you all regarding our move to our Hybrid program. Here is the basic information but please review what you must do in order to have your keiki return to F2F learning in their designated Hybrid/Blended Learning group.  It is important that you watch and review the information then fill out the Return to Learn survey to ensure your keiki can start on the first week back.
Click on this hyperlink to indicate if you will have your keiki return for Hybrid/Blended learning.
Click on this video hyperlink to view the Return to Learn Information Video.
Click on this link to view the Powerpoint information to review dates  and times.
Hybrid/Blended Learning start date: Poʻakahi: 2/22/2021
______________________________________
ʻOHANA ON-SITE HAUMĀNA CHECK-IN
Aloha e nā ʻohana, for those haumāna who will be coming onto campus, please be sure to complete this daily check-in before you arrive to school. Upon completion, please be sure to save a copy of the submission page (take a screenshot) to confirm that check-in has been completed.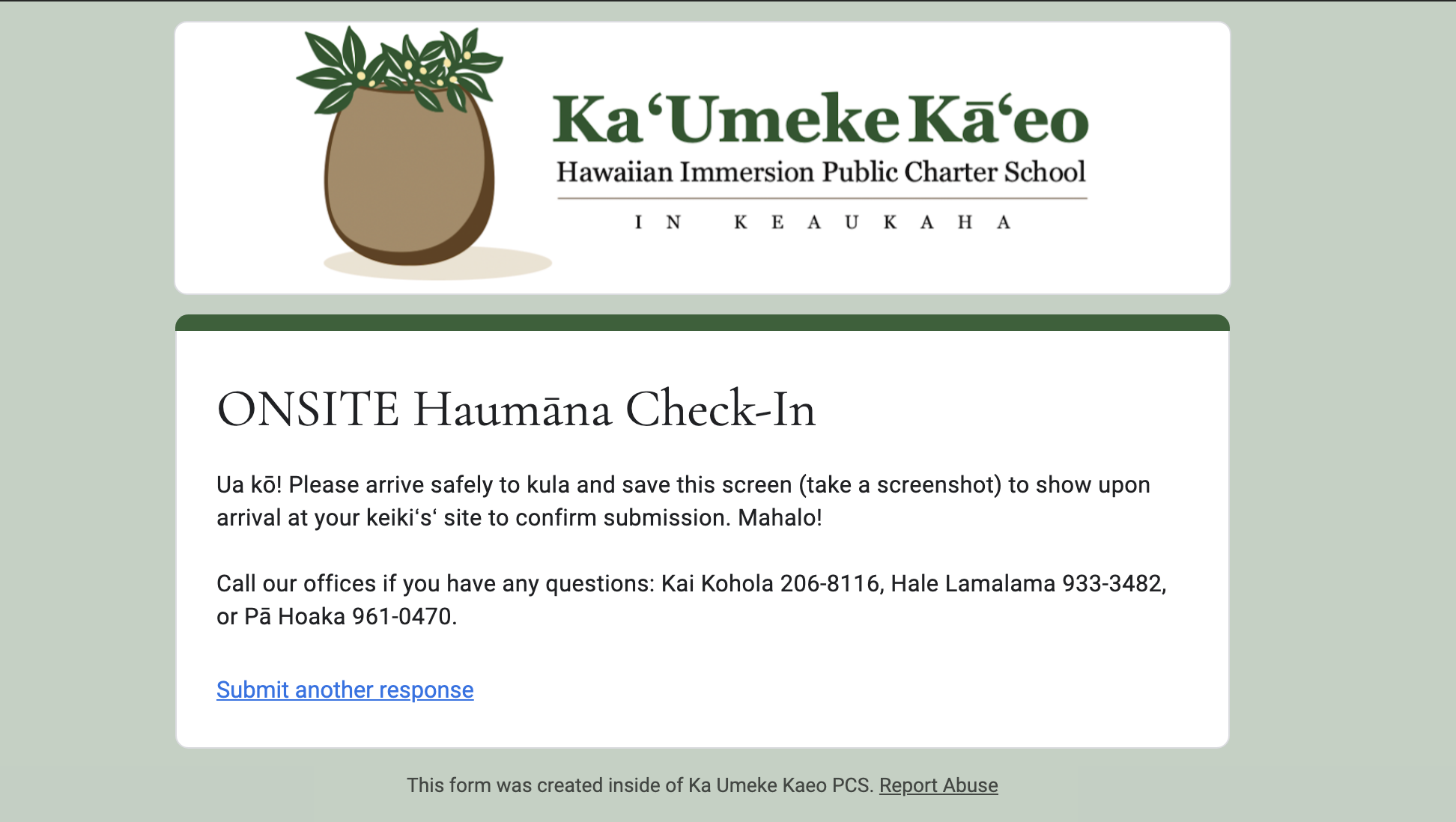 ______________________________________
Please click on the link above to watch a video on Ka ʻUmekeʻs return to learn model that we will be following for the remainder of the school year.  It will also be shared via BLOOMZ via your keikiʻs kumu.  If you have any questions after watching please post them in the google doc HERE and we will answer them ASAP.
______________________________________
______________________________________
Please go to our ʻOhana Engagement page for more information about different family & community events happening at Ka ʻUmeke.
___________________________________
ʻŌlelo Help & Classes
Starting September 20th, Kumu Kaliko Trapp will be offering office hours on Sundays from 1-3pm and Thursdays 4-5pm. Kumu Trapp is available to help with all your ʻōlelo Hawaiʻi questions and with haʻawina for ʻohana and haumāna. Beginning in October interested ʻohana will be able to sign up for access to ʻōlelo classes and other subscription based content that will be free to our ʻohana. Visit oleloonline.com to learn more. The Zoom ID and password for his office hours is 895 053 1868, there is no password it is a open Zoom room.
______________________________________
Check out our weekly newsletter, Ka Lama

_______________________________________
FIRST DAY PACKETS FOR ʻOHANA
can be found here.
_______________________________________________
Aloha e nā Mākua,
Please complete survey below ASAP for each of your keiki, if you have not already done so.
Student Instruction Survey Q1
A MESSAGE FROM OUR POʻOKUMU: 7/28/2020 FROM BLOOMZ POST ON 7/23/2020:
LINK FOR OFFICIAL SCHOOL CALENDAR
LINK FOR REVISED INSTRUCTIONAL DESIGN: shorturl.at/psIJ2
KʻUK Reopening Version 2
Aloha kākou e nā ʻohana Ka ʻUmeke Kā'eo PCS,
I hope this email finds you all safe and healthy, yet enjoying your wā hoʻomaha with your ʻohana. We have been working tirelessly to be prepared for our keiki and school year and want to mahalo you all for your patience and understanding as we work together in this process.  
Last night the KʻUK Governing Board met and approved the
revised Instructional Design for Q1
and Official
School Calendar
. There have been some changes to the original plan released for reopening to ensure that we are prepared and can provide a safe and healthy learning environment for our keiki and limahana. In order to do so we have decided to move our entire school program from Kai Kohola to Papa 11 to an A/B schedule. What this means is that all keiki that do not choose the 100% distance learning/online format (Papa Mālaaʻo-Papa 11 only) will have 2 days of face to face instruction at kula and 2 days of distance learning at home (w/ Wednesday being an independent online/pāhana instructional day). The attached document provides a visual for you to review when you have time.  
Another change is in relation to our calendar. Originally we planned to reopen for keiki on August 6th. After much thought and discussion we have recognized the need for additional time to prepare our sites for safe reopening as well as time for kumu and staff to receive pd/training and prepare for the new school year under these new requirements. Our new first day for keiki will be Monday, August 10th, and we will maintain the half day schedule for the week with full days to start the following Monday, August 17th.  
I will be providing an orientation for our ʻohana with more detailed information next week. Here are the days and times for the orientation zooms:
4:30-5:30 pm: (Zoom links will be posted on Bloomz and on our website)
Tuesday, July 28th: Papa 1-3
Wednesday July 29th: Papa 4-5
Thursday, July 30th: Papa Mālaaʻo
Monday, August 3rd: KWKK
Mahalo nui and I hope to see you next week at our orientations!
Me ka haʻahaʻa,
Kumu Nohea
Survey link for ʻohana instructional design choice: shorturl.at/ktvPQ
_____________________________________________________
A MESSAGE FROM OUR POʻOKUMU:
Aloha kākou e nā ʻohana Ka ʻUmeke Kāʻeo,
 Mahalo for your patience and understanding as we prepare for the reopening of next school year. We know that you have all been waiting for information on what school reopening for Ka ʻUmeke is going to look like. 
In designing our instructional program we are following guidance from the BOE/DOE/DOH and HSTA and are putting processes in place that will best ensure the health and safety of our keiki and staff. In our planning, we are prioritizing face to face as much as possible for our elementary grades to support our mission and vision of ʻōlelo Hawaiʻi acquisition but also ensuring we have plans in place for distancing learning as necessary. We will be meeting with faculty and staff this week to discuss our model for reopening and will have more detailed information for you early next week. 
For now please plan for the first day of instruction to be on August 6th and all instruction will be half days until August 14. Full days of instruction will begin on August 17th. We will be communicating via one-call, Bloomz, our website and will send informational letters out as well.
Mahalo nui for your patience and as always feel free to reach out to us at 933-3482 or 961-0470 if you have any questions or concerns.  
Aloha,
Kumu Nohea 
Ka ʻUmeke Kaʻeo School Supply List SY2020-2021
***UPDATE 8/4/20: For haumāna in Kumu Wina's Papa 1, most school supplies have been donated. Only supplies needed are: 1 pencil pouch for 3-ring binder and 1 plastic pencil box. MAHALO!***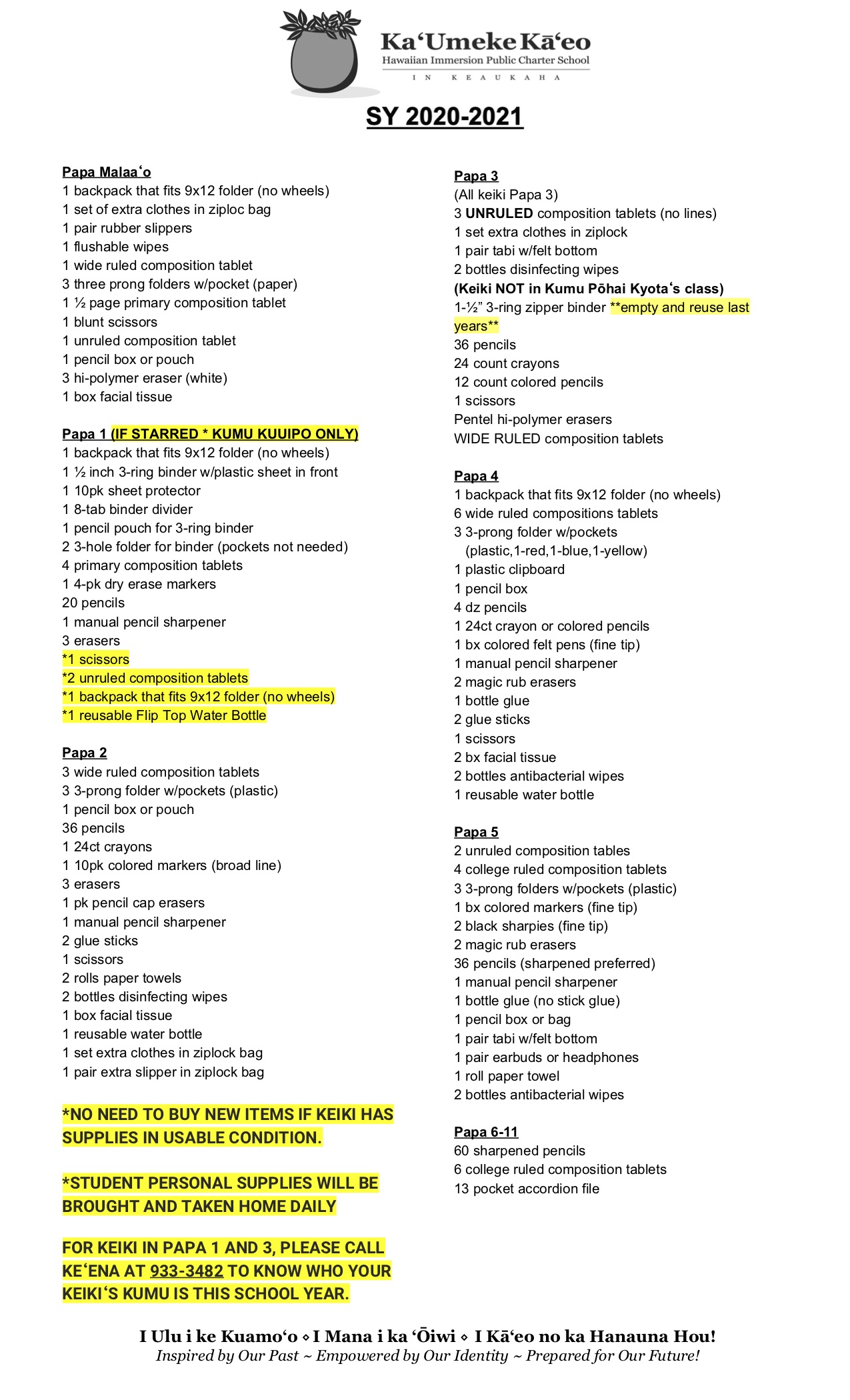 *Please click on hyperlink above for more information.
The Family Educational Rights and Privacy Act (FERPA) is a federal law that gives parents certain protections with regard to their children's education records, such as report cards, transcripts, disciplinary records, contact and family information, and class schedules. As a parent, you have the right to review your child's education records and to request changes under limited circumstances.
Annual Notice of Non-Discrimination Requirement_June2018
SCHOOL UNIFORMS
School uniforms may be purchased at Creative Arts Hawaiʻi located at
500 Kalanianaʻole Ave.
HOURS OF OPERATION: 8:00a-4:00p
$7.50 (keiki); $8.00 (makua)