Please click on this link for a tutorial on how to make the lei poʻo kupukupu for your keiki.
LOCATION OF KA ʻUMEKE GRADE LEVELS BEGINNING WEDNESDAY, MAY 9TH TO THE END OF SCHOOL YEAR.
Mālaaʻo (Kindergarten)  – Papa ʻElua (Grade 2) at Hawaiʻi Community College Manono Campus  Click on map below to see drop off and pick up area.
Drop off and pick up will be at one-way parking on East Kawili Street across from Mehana Brewery.  School will begin at normal times 8:00am – 2:30pm.  Breakfast and lunch will be provided.
Papa ʻEkolu (Grade 3)  – Papa ʻEiwa (Grade 9) at Hale ʻŌlelo University of Hawaiʻi at Hilo Campus.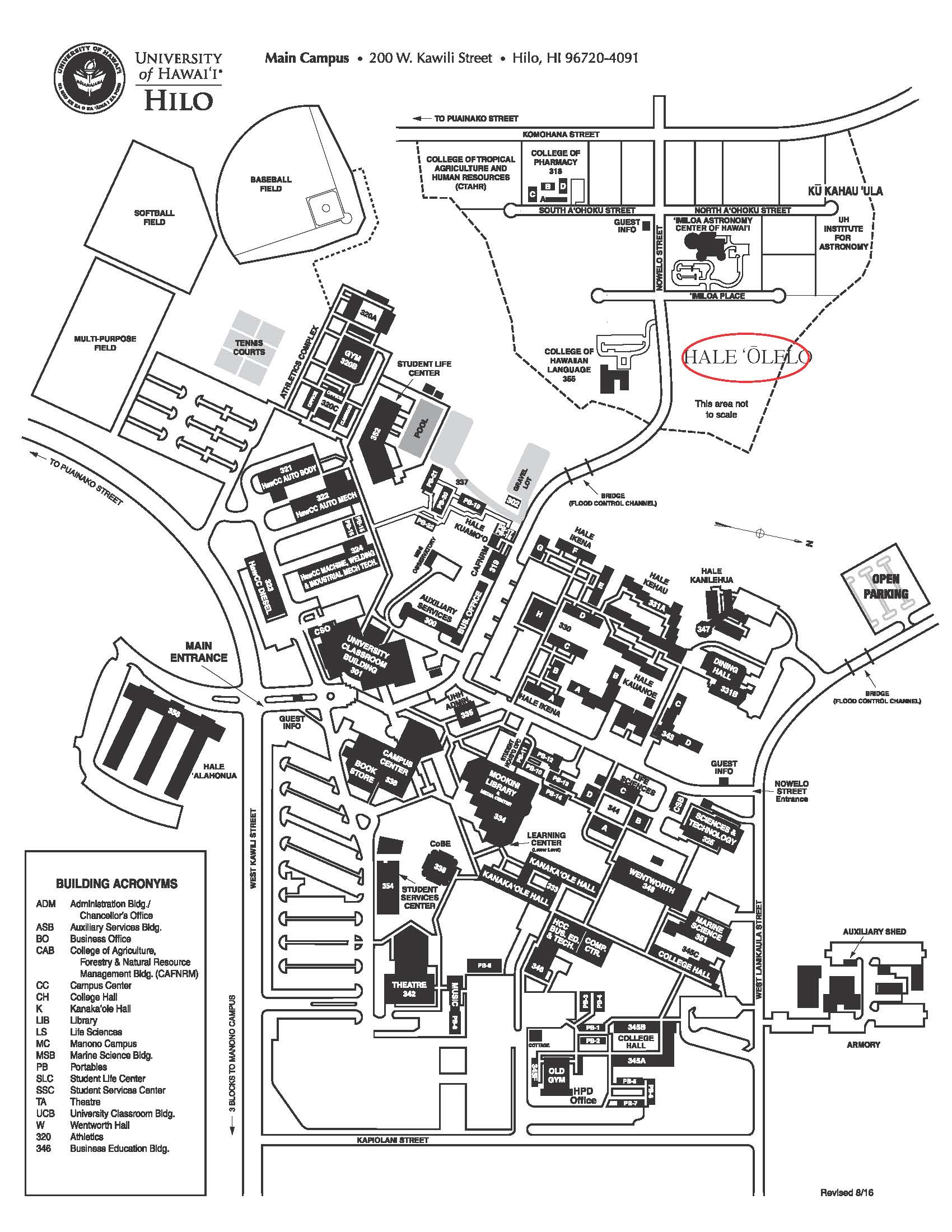 Drop off and pick up will be in front of Hale ʻŌlelo.  School will begin at normal times 8:00am – 2:30pm.  Breakfast and lunch will be provided.   
PreK will be closed for this week, we are looking for an appropriate relocation site.
Our bus is still not working so if your child attends A+ you will still need to provide transportation to A+.
UPDATE FOR KA ʻUMEKE CLOSURES
Aloha e nā ʻOhana,
As most of you now know, we experienced a Magnitude 5.0 earthquake on Thursday morning that prompted an immediate tsunami evacuation of all Ka ʻUmeke campuses.  Although Hawaiʻi County Civil Defense confirmed that no tsunami was generated, Ka ʻUmeke did not receive official word until nearly 24 minutes after the earthquake occurred.  A locally generated tsunami can occur within 7-15 minutes. In the event of a locally generated tsunami, the warning siren will NOT sound an alert in time to notify affected areas.
Last Friday we experienced another two large earthquakes one measuring 6.0 and another measuring 6.9.  Civil Defense has informed us that a 6.9 Magnitude earthquake has the potential to generate a tsunami. It is impossible for us to immediately detect an earthquakeʻs magnitude as such it is Ka ʻUmeke's protocol to evacuate haumāna whenever an earthquake is felt.  In the event that we evacuate keiki due to an earthquake we will be calling ʻohana to pick up their keiki. We have found that post an emergency evacuation, haumāna are on edge and find it difficult to focus. We also want avoid having to make multiple evacuations on the same day.
Many ʻohana and community members have questioned Ka ʻUmeke's decision to cancel school.  Although the school is not located near or in the vicinity of major of volcanic activity, we take the threat of tsunami very seriously.  Our priority is always to ensure the health and safety of our haumāna. We have been working diligently for the last few days to review and tighten up our evacuation protocols and ensure all kumu know what to do.
So that we can keep all ʻohana up to date on any emergency situations please make note of the following:
ʻOhana will be provided with a information/status update after any emergency evacuation

Make sure your emergency contact information and your one call number is up to date (note if your message box is full One Call will not leave a message)

In the event of an Earthquake please do not drive into Keaukaha, Keaukaha is in the tsunami inundation zone

If there is a tsunami generated your student will moved to Panaewa Park.
Our staff and haumāna are noticeably concerned and on edge with the potential of another large earthquake.  Because increased seismic activity is connected to increase risk of tsunami threat we have been busy identifying relocation sites out of the tsunami inundation zone.  In order to give our haumāna, kumu, staff and ʻohana piece of mind we have been busy trying to identify temporary sites out of the inundation zone. Please refer to the announcement on our website at kaumeke.org for those relocation sites or Kamaʻaha Education Intiative Facebook page (Click Here).  These sites will be our school location until the end of the year.
MAHALO nui for your patience our main concern is for the safety of our haumāna and limahana.
*Please click on hyperlink above for more information.
The Family Educational Rights and Privacy Act (FERPA) is a federal law that gives parents certain protections with regard to their children's education records, such as report cards, transcripts, disciplinary records, contact and family information, and class schedules. As a parent, you have the right to review your child's education records and to request changes under limited circumstances.
Annual Notice of Non-Discrimination Requirement_June2018
Aloha mai kākou!
IMPORTANT DATES & INFORMATION
PLEASE BE ADVISED, EFFECTIVE 1/8/18
SCHOOL FINISHES AT 2:30PM
MONDAYS-FRIDAYS
Aloha e nā ʻohana,
We apologize for the inconvenience, but we are having mechanical issues with our bus, so we will be suspending bus services for the rest of the school year. We will update families on the status of our bus as information becomes available.
Please be sure to make arrangements for your child's transportation during this time. We will not be providing rides to after school programs.  Also, if you are allowing your children to walk to their destination, please be sure to communicate with the keʻena or your child will not be allowed to leave campus.
School hours are 8:00a – 2:30pm
Students should not be on campus before 7:00a and MUST be picked up by 3:00p. 
Mahalo for your patience!
Public Release under CEP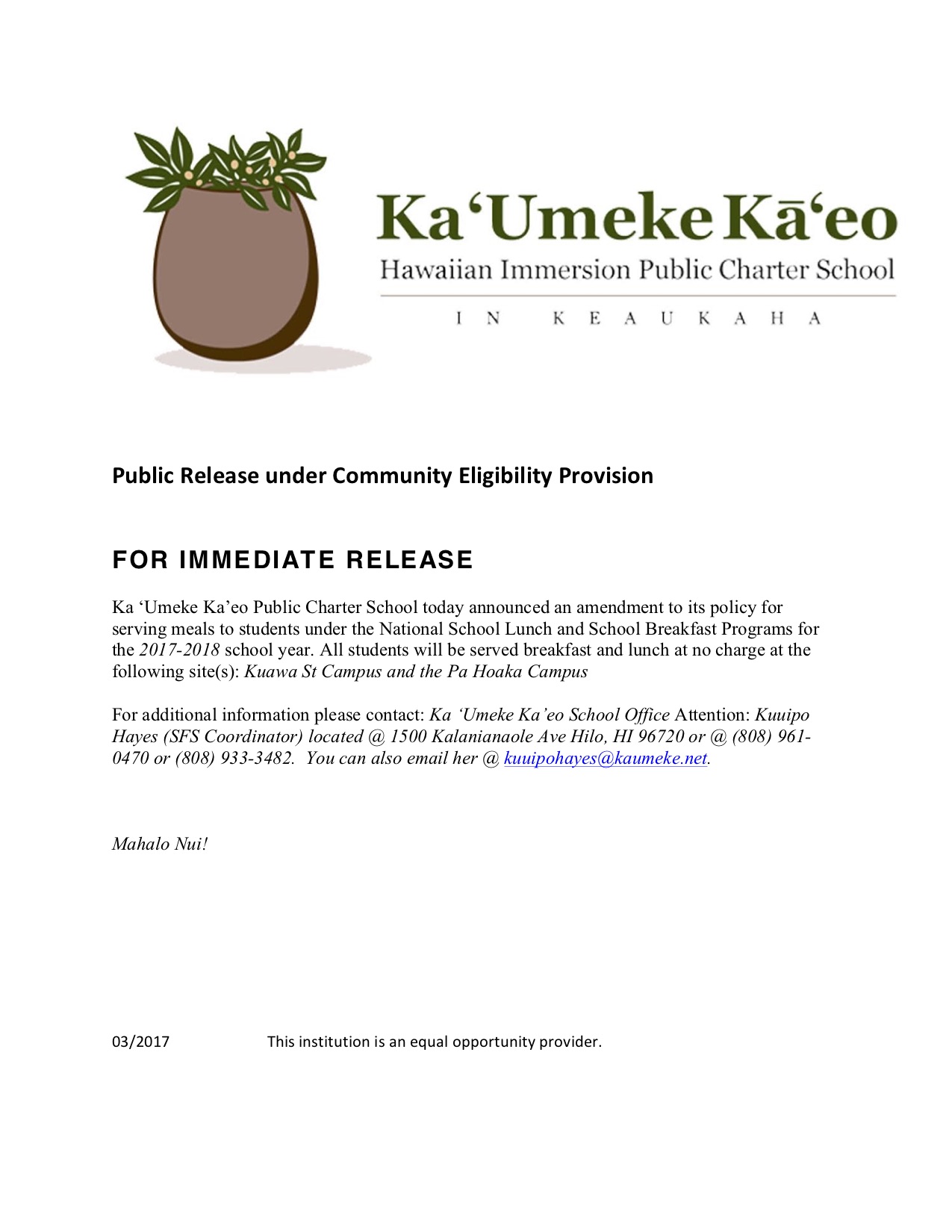 2017-2018 OFFICIAL KA ʻUMEKE KĀʻEO SCHOOL CALENDAR
*click on the link above for a pdf copy of the calendar*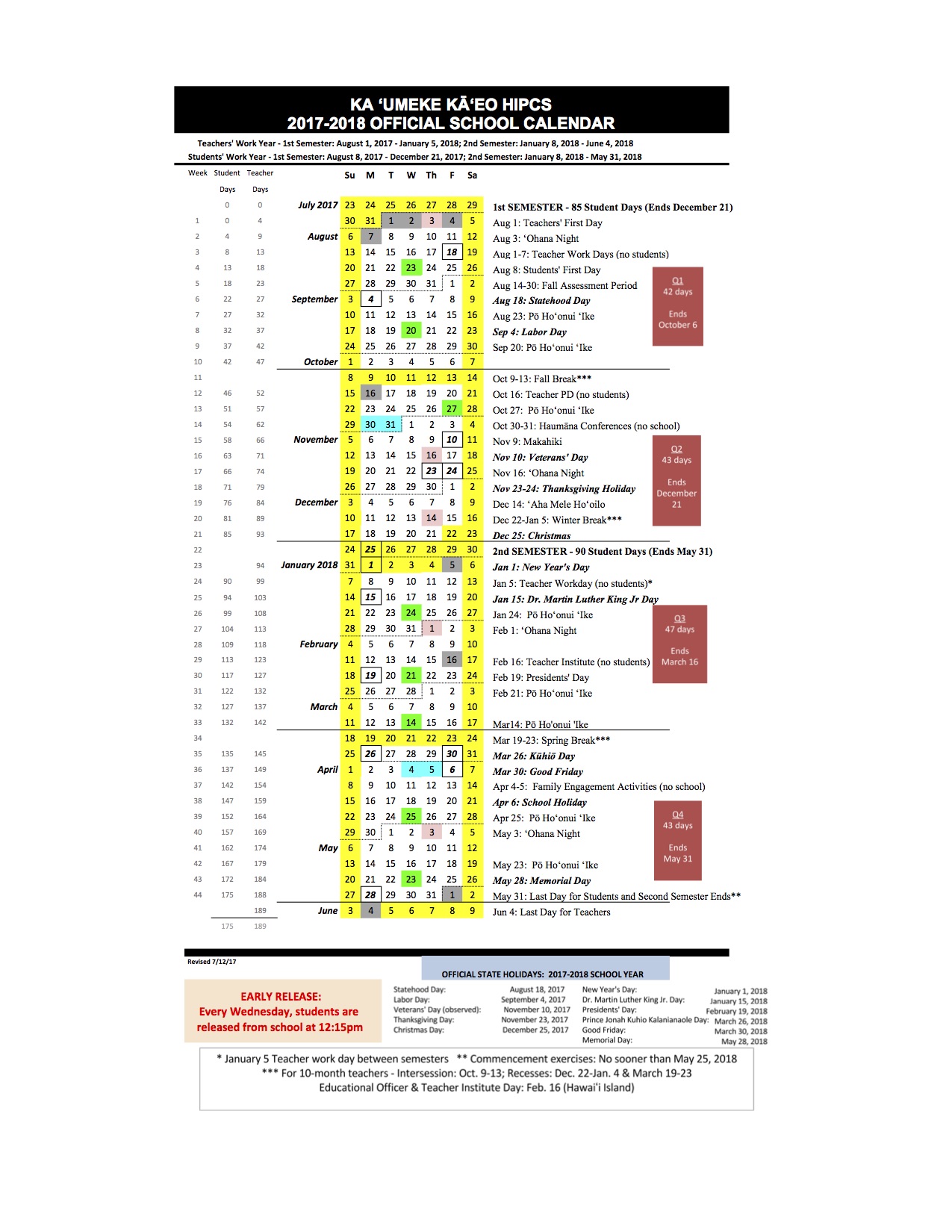 SCHOOL UNIFORMS
School uniforms may be purchased at Creative Arts Hawaiʻi located at
500 Kalanianaʻole Ave.
HOURS OF OPERATION: 8:00a-4:00p
$7.50 (keiki); $8.00 (makua)
*click on the link above for a pdf copy of the supply list*