IMPORTANT DATES & INFORMATION
ʻAʻOHE KULA:

Lā Hemolele
Poʻalima, 7 ʻApelila 2023
Lā Nui Mele Manaka
Poʻakolu, 12 ʻApelila 2023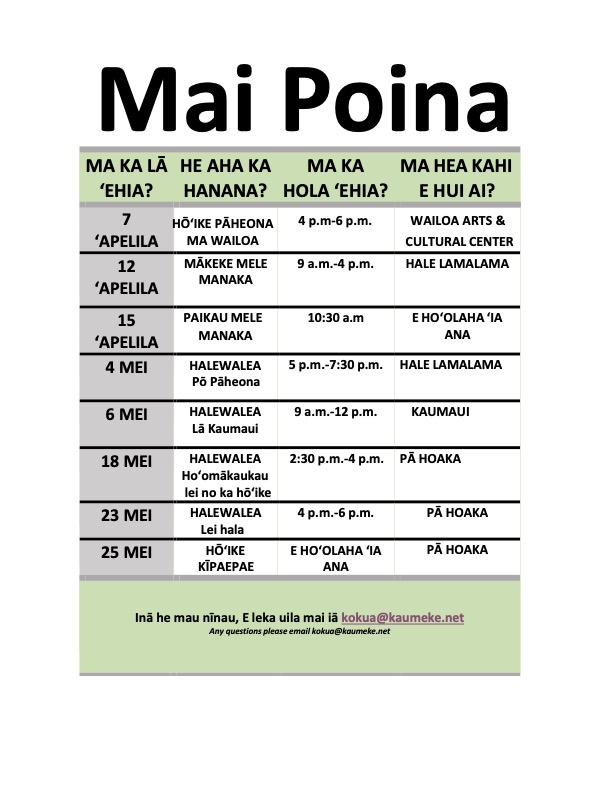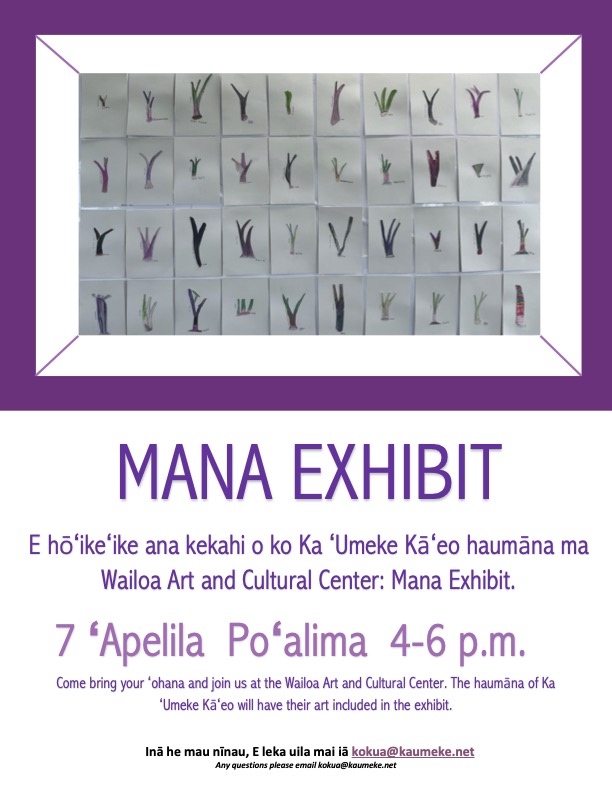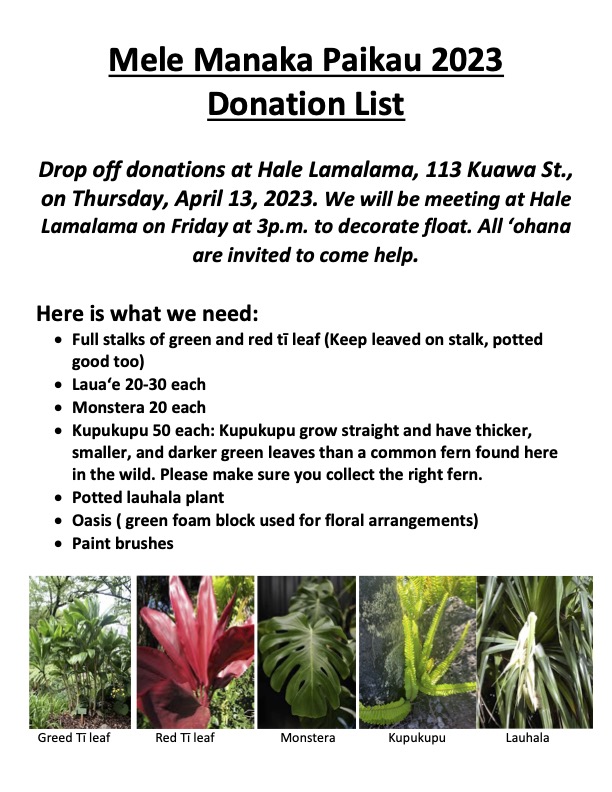 BUS REGISTRATION FORM
Aloha kākou,
If you are interested in having your child catch the bus in the mornings and in the afternoons, please be sure to fill out the JotForms. Mahalo!!
Aloha 
So excited for keiki return tomorrow for our new school year. Hereʻs some important information:
First, due to the current HIGH level of COVID community spread we are committed to keeping our ʻohana, keiki and limahana safe. We will be maintaining indoor masking for the month of August and reassess as we move forward. Outdoor masking will remain optional. All other COVID rules will remain the same regarding quarantine/isolation/close contact. I will be sharing a QUICK GLANCE informational doc with you all to answer any questions you may have.
Second, all pickup and drop off times and procedures remain the same on all campuses. 
Our BELL SCHEDULE is 8:00am start of school and 2:10 end of school with Wednesday as a short day at 12:00pm. 
As a reminder Kai Kohola does not begin until Monday, August 8th. 
At HALE LAMALAMA we will be dropping off all keiki at the door near the office. We will not be having ʻohana come in to take their keiki, limahana will be available to walk keiki to their new classes and assist with carrying their ʻukana. We will be having an OPEN HOUSE later in the month where ʻohana may come to visit their keikiʻs classroom and school site. Pickup will also remain the same with Papa Malāaʻo and 1 at the keʻena door and Papa 2 and 3 at the parking lot doors. If you have mutliple keiki, please pick up on the side based on your eldest keiki.  
At PA HOAKA drop off for all keiki will be at the back 2 story building, this includes our 4th and 5th graders. We will have keiki walked over to Hale Kula (front building for Papa 4 and 5) when kumu arrive. Pick up and drop off remains the same. 
Third, we will be starting bus service on Monday for those ʻohana that complete the first day packet by Saturday. If you do not complete by Saturday your keiki will not be able to ride the bus. 
Pickup begins at 6;45 at Shipman and 7:05 at Panaewa Park. 
Drop off is 2:50 pm at Panaʻewa and 3:05 at Shipman. 
Keiki in A+ from Pa Hoaka will be dropped at Hale Lamalama.
Keep in mind and plan that at any given time the bus may run 10-15 mins early or late.
Another bus sign up will be shared later this week with more information, if you are interested please keep posted and fill out form ASAP.
Finally, we do want to return to a semblance of normalcy and encourage ʻohana engagement so we are planning an open house within August. We will keep you posted on the dates once paʻa. 
Mahalo again and excited to see everyone tomorrow.
Aloha,
Poʻokumu Nohea Nahale-a
SCHOOL UNIFORMS
500 Kalanianaʻole Ave.
HOURS OF OPERATION: 8:00a-4:00p
$7.50 (keiki); $8.00 (makua)
2022-23 Ka ʻUmeke Kāʻeo Official School Calendar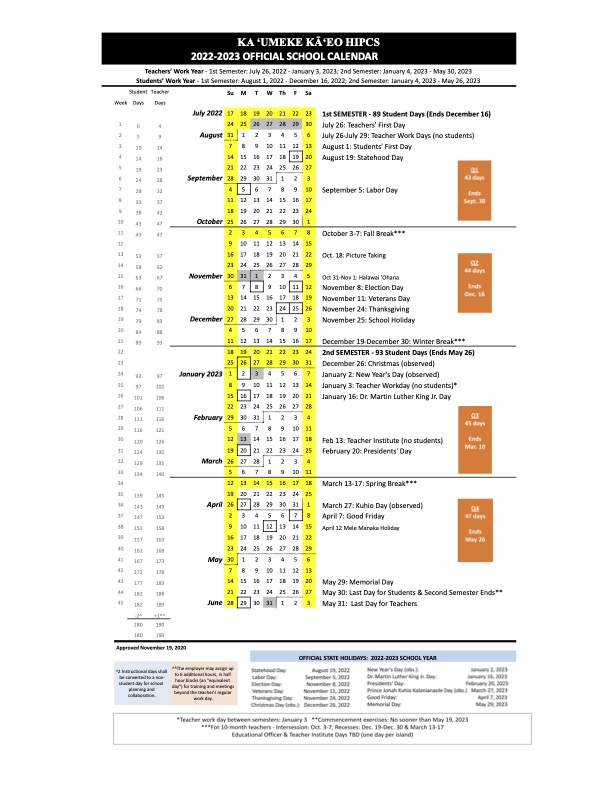 Supply List SY2022-2023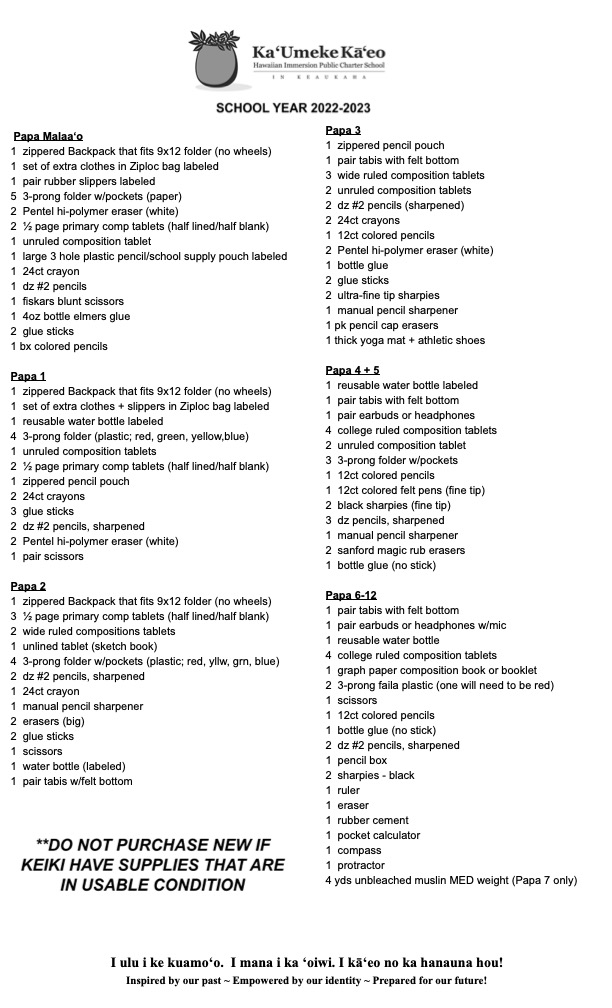 Puke Haliʻa (Yearbook)
Ka ʻUmeke Kāʻeo's 2021-2022 Yearbook,
"Kau Ka Haliʻa Aloha,"
is still available and may be purchased at
Hale Lamalama or Pā Hoaka sites.
Cost per yearbook is $18.00
MAHALO!!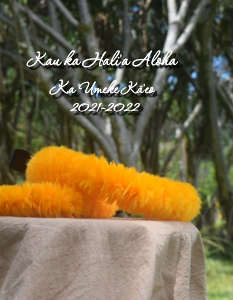 _____________________________________
Please see the map below of our morning drop-off at Pā Hoaka. 
NOTE: Please do not park in the driveway! Please pull off to the side and leave the driveway open. Mahalo!
If you have any questions, please call the keʻena at (808) 961-0470. Mahalo for your patience!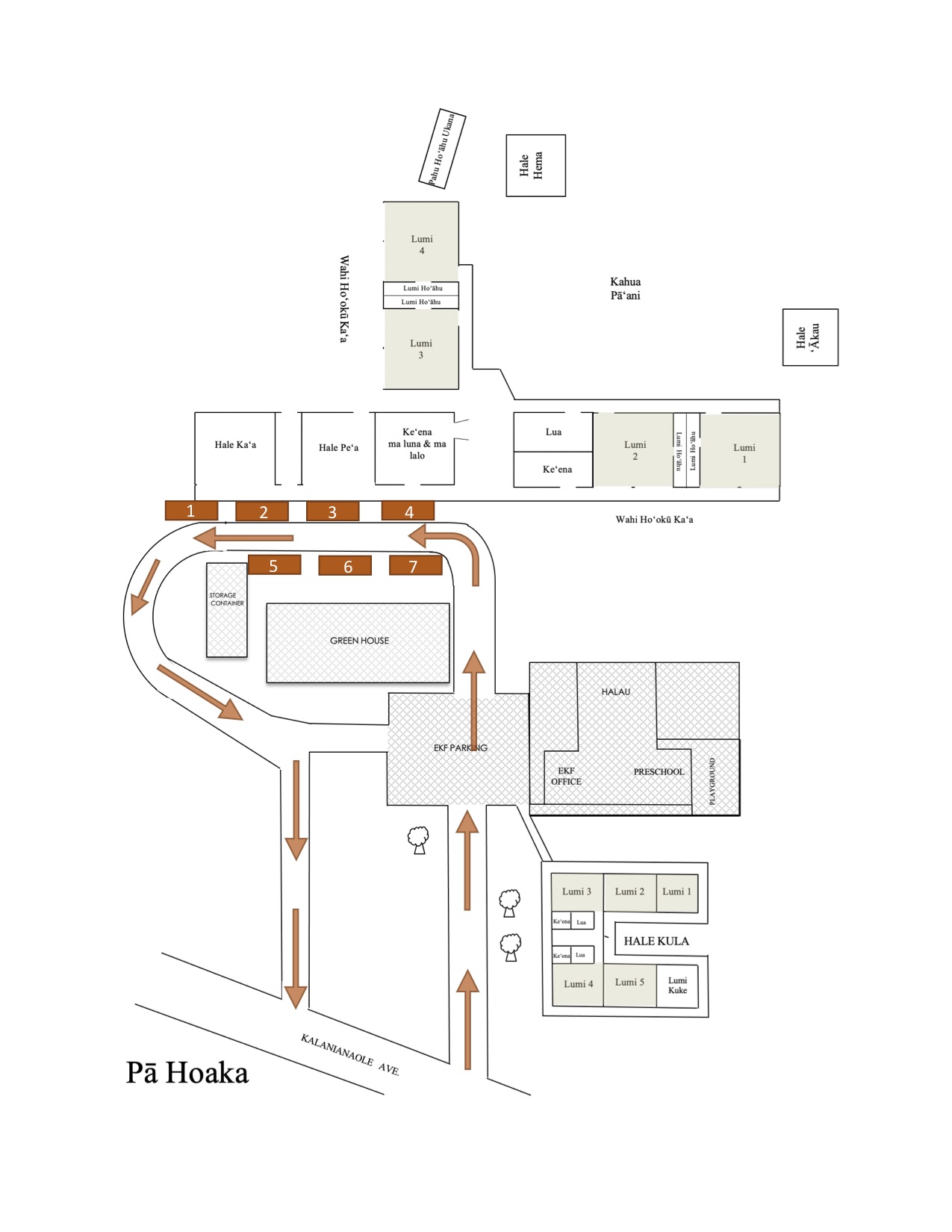 ______________________________________
______________________________________
Please go to our ʻOhana Engagement page for more information about different family & community events happening at Ka ʻUmeke.
___________________________________
Check out our weekly newsletter, Ka Lama

_______________________________________
TECHNOLOGY RESPONSIBLE USE GUIDELINES
*Please click on hyperlink above for more information.
The Family Educational Rights and Privacy Act (FERPA) is a federal law that gives parents certain protections with regard to their children's education records, such as report cards, transcripts, disciplinary records, contact and family information, and class schedules. As a parent, you have the right to review your child's education records and to request changes under limited circumstances.
Annual Notice of Non-Discrimination Requirement_June2018
If you have any questions, you can email us at info@kaumeke.net
You may also leave a message on our campus phones, messages will be checked daily and we will contact you as soon as possible.
Kai Koholā (PreK): (808) 209-8116
Hale Lamalama (Papa M-Papa 3): (808) 933-3482
Pā Hoaka (Papa 4-11): (808) 961-0470