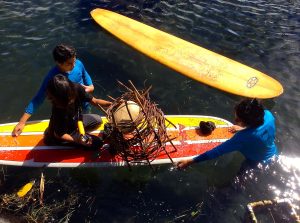 Each year haumāna at Ka ʻUmeke Kāʻeoʻs Kula Waena – Piʻihonua participate in a research symposium.  At this symposium, they share the results of their year-long research projects.  This year haumāna did research at three different sites, Honokea loko iʻa in Keaukaha, Liko Nā Pilina at Keaukaha Military Reserve and Keauhou forest.  Haumāna will present their research to a panel of experts who will score their research presentations based on the following rubric. (RUBRIC) Some of their research topics include:
Umu: Floating umu design challenge.
Identifying invasive biomass, determining growth rate of these identified species, and identifying connections between invasive and reforested plants
ʻŌhiʻa: Identification and documentation of various methods of ʻōhiʻa propagation.
Join us on May 2nd from 5pm – 7pm for an open house and then May 4th from 8:30am – 3:00pm for the research presentations.  Both events will be at the Mokupāpapa Discovery Center.